African All Stars
Victor Ikpeba makes Abuja return as Copa Coca-Cola guest celebrity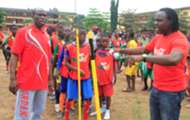 Former Nigeria forward Victor Ikpeba made his second appearance as a guest celebrity in Abuja as the Copa Coca-Cola regionals hit the Federal Capital Territory on Tuesday.
Ikpeba, who is a famous TV analyst, had his presence erupting jubilation and broad smiles from the faces of students during the coaching clinic at the Government Secondary School, Jabi.
Students from Government Secondary School, Kwale of Kano State, Ndayako Day Secondary School, Bida of Niger State, Mbagwa Community Secondary School, Lessel of Benue State and Christ Comprehensive College, Kakuri of Kaduna state were present for the session.
In his brief lecture, the former Super Eagles man advised the players to believe in themselves and take advantage of the platform offered by Coke to launch their careers.
He further urged them remain determined, focused on their dreams and as well take their academies seriously, insisting that football and education must go together.
"I'm excited to be with your kids here [Abuja] again for Copa Coca Cola,"Ikpeba told Goal.
"Ibelieve you all eager to showcase yourselves and qualify your various teams for the finals in Lagos. I will want to tell you that there is a lot you can achieve if you're discipline, determined and believe in your skills.
"I know your futures are bright and I'll urge you all to work hard and never abandon your education for football at this young age. With education, you can do than me and many of us."
During the practical session that lasted for nearly an hour, Ikpeba took the teams through training in heading, passes and numerous training skills in the game.