Bayern München
'Van Gaal & Van Bommel central to Bayern move' - Robben says Dutch pair influenced Munich move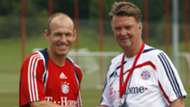 Arjen Robben says he would never have considered joining Bayern Munich had Louis van Gaal and Mark van Bommel not been at the club.
The former Netherlands international joined Bayern in 2009 from Real Madrid, who sold the winger against his will after just two seasons at the Santiago Bernabeu.
Van Gaal had moved to the Bundesliga giants that same summer while Van Bommel had recently been installed as the club's first ever non-German captain after the retirement of Oliver Khan.
And the presence of his fellow Dutchmen meant Robben was happy to move to Bavaria as he was forced out by Real.
He told Bayern blog Miasanrot.de: "Of course, this is important as a player. You have to know what they are planning with you. 
"If Van Gaal and Van Bommel had not been here, I do not know if I would have come here. 
"It was important that they were here. Maybe it sounds like Bayern would not have been for me otherwise, but that's football. 
"For me, the right people were here at the right time and that's why I made that decision. 
"It was also good for the club, I think. I also said that was the most important decision of my career."
Robben will celebrate 10 years in Munich at the end of this season, a decade which has produced 18 major honours, over 300 appearances and in excess of a century of goals and assists.
That spell included three seasons working under Pep Guardiola, who won the Bundesliga title in each of his campaigns in charge.
The Dutchman's role was uncertain upon Guardiola's arrival but he would flourish under his stewardship.
"He was a super tactical tactician and I really enjoyed working with him," added Robben.
"To be challenged and how he thinks about football, what he demands from his players. But without saying, one must always be careful that others were not good there. Not at all. 
"But he is outstanding, he is really so good and as I said, you will be challenged.
"I also played on other positions under him, not just right winger. 
"I used to play as the number nine, but also ten behind the striker or even as a midfielder. 
"Once even as a right-back in a five-string."