Liverpool
Van Dijk or Ramos? Liverpool star told he needs trophies to top Real Madrid skipper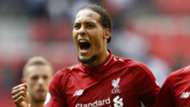 Virgil van Dijk is "right in the top group" when it comes to the world's best defenders, says Jamie Carragher, but the Liverpool star has been told he needs trophies in order to overtake the likes of Real Madrid skipper Sergio Ramos.
The arrival of a £75 million ($99m) addition at Anfield in January is considered to have helped turn Jurgen Klopp's side into serious contenders for major silverware.
Liverpool reached the Champions League final last season, before coming unstuck against Madrid, while a Premier League title challenge is being pieced together on the back of an unbeaten start in 2018-19.
Van Dijk has played a key role in making the Reds competitive, but the Netherlands international is still lacking the silverware which marks serial winner Ramos and his World Cup-winning club colleague Raphael Varane out as the very best in the business.
Ex-Liverpool star Carragher told Soccer AM on the battle for global supremacy and Van Dijk's current standing: "I think he's right in the top group. Some people may put him top.
"I would just hang fire with that with the fact he hasn't won the biggest trophies yet. I think you have to do that. 
"You want to be known as the best in whatever position, you've got to have something on the CV - Premier League, Champions League. 
"He got to the final last season. But I think the two players at the other end of the pitch in Ramos and Varane, not so much that they're better players than Virgil van Dijk, but they've won Champions Leagues, both won the World Cup. 
"When you've got that on the CV, it's hard to look past."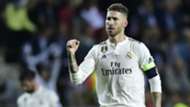 Ramos is widely considered to be the finest defender on the planet at present, with the 32-year-old having proved himself with Madrid and Spain over a number of years.
Carragher added on his qualities: "He's a top player as well I don't think we should forget that and he's a major reason why Real Madrid have been so successful. 
"There's no [Cristiano] Ronaldo this year so it will be more difficult for them. But what Ronaldo was at one end of the pitch over the last few years, I think Ramos has been at the other end."