Virgil van Dijk
Van Dijk: This Liverpool team believes it can win everything this season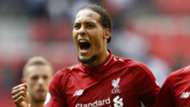 Virgil van Dijk says Liverpool will be "trying to win everything" this season as he warned his team-mates "anyone who doesn't believe better stay at home."
The Reds extended their flawless start to the new campaign with victory over Paris Saint-Germain in their opening Champions League group game on Tuesday night. Jurgen Klopp's side have now won their first six games in all competitions, the first time they have managed that since 1990. 
Klopp's message so far has been consistent, challenging his team to retain focus and meet obstacles head-on. Complacency, he has warned, will not be accepted.
That theme has been taken up by his players, with Van Dijk speaking after the PSG game about the hunger and desire which burns within the Reds squad.
"If you are going to be on the pitch and you don't believe it then you'd better stay home!" the Dutchman said. "You need to have belief, you need to have belief in everyone in your team and I have all the belief that's there in this team.
"I'm enjoying every single bit of it. If you look at the team we have, if you look at the whole squad, players who are not even in the squad who have so much potential and so much quality, it says a lot about our team.
"Obviously in the end it is about hard work, making sure everyone is there for each other and I think it started for us in the pre-season. Hopefully we can keep on going. We've had a good start. There will be a day when we have downs as well, but then it is how we react – and I am not worried about anything."
Liverpool's start to the season has underlined the progress made under Klopp during the past two seasons, but having finished fourth in each of the last two campaigns it would require significant improvement for them to end their long wait for a league title. They finished 25 points behind champions Manchester City last time, after all.
Despite this, Van Dijk is happy to set the bar high in terms of their ambitions.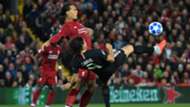 "Everyone is excited, everyone is feeling good, everyone wanted to be part of this," he said. "We know the season is very long, we have four competitions to play in, but you know – we want to win everything, that is basically our mindset. Otherwise, you'd better stop.
"You need to have ambitions, and with the size of this club, with the people around here and the history of the club, we want to try and win everything. It's going to be hard, it's going to be something very difficult to do, but you know we are going to just try it. That is the only way forward.
"We want to compete for every competition like we did last year, and we wanted to start well this time. We've had a good start to the season, nothing has been won yet, we need to show it every week, every three days now.
"We have to be ready. But you know it's a great time to be a Liverpool player, you want to play these games, you want to play these clubs we are going to face. You want to play at the highest level, you know, so enjoy it."
Van Dijk's next task is to face his former club, Southampton. His transition following his £75 million ($98.5m) switch to Anfield in January has been seamless, the 27-year-old immediately establishing himself as a key player for his new club.
Now, his aim is simple; trophies.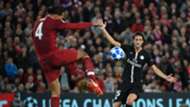 "I have enjoyed every bit of it since I have arrived here," he said. "And I hope we keep it going.
"I want to win things, I want to create memories here and write history as well with all these boys. The season is just started, we have started well. We don't need to take anything for granted, we have to keep working hard and stay humble.
"We were not in the [Champions League] final last year for no reason, I think we should already get that respect for what we did. But obviously this season is new, everyone starts over, every game.
"It started here [against PSG], but then the weekend again with Southampton, the [Carabao] cup against Chelsea, we need to keep going, keep improving, but also enjoy it – you know it's the highest stage and you want to play these games as a player.
"We can't get ahead of ourselves, we have to stay both feet on the ground and keep working hard and be humble because look, Saturday a very tough game at Southampton, then midweek Chelsea, then Chelsea again, then Man City, then I have Germany and Belgium with Holland.
"So, keep on going, every week is a new preparation, every three days now. It is the only way forward."