UEFA Champions League
Unlucky gambler bags consolation prize from Kahn after Sane costs him €34,200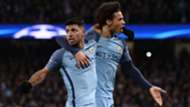 Unlucky gambler Marvin Jorres made headlines this week after being infamously cost €34,200 when Leroy Sane's late strike against Monaco burst his bet.
Jorres had placed a €2 bet on a correct score double - backing Atletico Madrid to beat Bayer Leverkusen 4-2 and Manchester City to win 4-3 against Monaco in Tuesday night's Champions League last-16 games.
Sane has since apologised for taking the score to 5-3 against the Ligue 1 side, though it will have done little to console the unlucky punter.
I read about it in the newspapers ... sorry for that poor guy #inSané pic.twitter.com/Kx6X87Gti3

— Leroy Sané (@LeroySane19) February 22, 2017
Now, however, Oliver Kahn, an ambassador for the company with which Jorres placed the bet, Tipico, has provided a silver lining, offering the gambler an all-expenses paid trip to watch Monaco face Man City in the return leg.
"I heard about your mega Tipico bet," Kahn posted on Facebook. "I have something for you! Tipico and myself want to send you and another person to Monaco. Flight, VIP tickets - all inclusive."
So... yeah. Swings and roundabouts.