Arsenal
Under-fire Wenger backed by Koscielny amid Arsenal blame game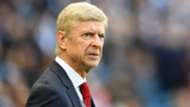 Laurent Koscielny insists the Arsenal squad remain fully supportive of Arsene Wenger, with players having to shoulder as much responsibility for an alarming slump as an under-fire manager.
Four successive defeats, and eight reversals in 13 outings across all competitions, have seen some serious questions asked in north London.
Wenger has largely bore the brunt for a sorry run of form, with the long-serving Frenchman seeing calls for him to step aside intensify as the Gunners have become firmly stuck in a rut.
He has, however, vowed to stay put and turn things around, with Koscielny adamant that everyone at Emirates Stadium is pulling in the same direction and reluctant to point the finger of blame.
The France international defender told reporters: "Of course we are behind the manager. The players have the responsibility on the pitch, the boss has responsibilities too and we have to be together.
"It is difficult to say if it is his fault or our fault. The club are together and we need to stay together.
"Everything outside our bubble, we don't think about. The boss is here to give his best for the club. He has been here for 20 years and has always loved the club, the players have as well. But yes, as a period it is difficult so we need to stay together and fight."
Arsenal put in another disappointing display during their last outing against Brighton, and Koscielny acknowledges that they have to raise their game for crucial fixtures to come – starting with a Europa League last-16 encounter with Serie A heavyweights AC Milan on Thursday.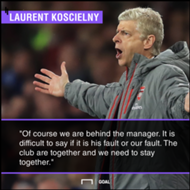 He added: "We know we are in a bad situation a bad period, we tried but nothing is with us.
"We tried to fight and play football but you could see the confidence is very down. We miss a lot of things during the game against Brighton but we need to push more again and again. The confidence will be back slowly.
"We know we need to win to have a little bit more confidence in us. We lost a little bit of our quality but we need to stay united.
"It is a bad period but we need everyone who like this club - players, staff and fans - to be together and to fight to stay the highest we can. You need to put your head down and work. Just like this, we could be back at the top.
"We will fight until the end of the season."