Arsenal
Xhaka: Emery has already improved my game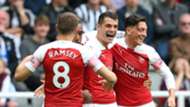 Arsenal midfielder Granit Xhaka believes Unai Emery has already improved him as a player.
The Switzerland international came in for criticism during Arsene Wenger's final season in charge, but has made steady improvement this campaign under former Paris Saint-Germain boss Emery.
The 26-year-old has started every Premier League game for the Gunners and has been a central figure in their stunning run of nine consecutive wins in all competitions.
Xhaka is often singled out for his rash decision-making in the middle of the park but believes the new Arsenal boss has already improved his game.
The midfielder, who played in Switzerland's 2-1 defeat to Belgium on Saturday, is in no doubt that Emery is to thank for his revival, telling the Daily Mail: "On a tactical level, the manager has really helped me.
"We needed some time to get to know the character and philosophy of the new manager. It is going well and I am improving, but we can still improve."
Emery has chosen to use Xhaka as part of a two-man midfield, with the likes of Mesut Ozil, Pierre-Emerick Aubameyang and Alexandre Lacazette all ahead of him.
He started the season alongside 19-year-old summer signing Matteo Guendouzi, but in recent weeks, Uruguay midfielder Lucas Torreira has been Xhaka's midfield partner, with many of the opinion that this combination is Arsenal's strongest as it stands.
One midfielder that looks to be on his way out of the club is Aaron Ramsey, with discussions to extend his current contract now at a standstill.
The Welshman has this week claimed that he won't leave the club in January, meaning he is likely to be available on a free transfer next summer.
The Gunners return to Premier League action on Monday, October 22 as they host Claude Puel's Leicester City.