Manchester United
UAE Girls travel to Manchester United following duFC Challenge win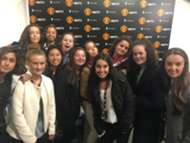 The duFC's UAE Girls Challenge winning team from Go Pro Sports were given the trip to Old Trafford last weekend, where they participated in a exclusive training clinic led by Manchester United coaches and watched the team face Chelsea in the Premier League.
The UAE Girls Challenge champions experienced the electric atmosphere in the jam-packed Old Trafford stadium as Manchester United beat the league leaders.
Speaking about the experience Hussein Murad, CEO Inspiratus Sports Experience, the organizers of the UAE Girls Challenge said, "It is great to see the growing number of female participants through this platform which is changing the face of youth football in the UAE. This trip celebrates the achievements of the winning team, an exceptional group of talented girls with great potential to become pro-footballers and we hope that this experience has inspired them to follow their dreams."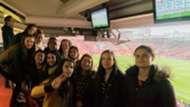 The training led by United coaches gave the girls first-hand experience of UK football which is characterized by speed and tempo.
The team was also treated to a private behind the scenes tour of Old Trafford where they walked the Sir Alex Ferguson road and ended the tour with a walk through the tunnel onto the pitch.
Speaking about the experience Ava Steven, Captain of the team said, "The experience of the duFC's Girls Challenge was amazing! From the very first whistle of our first match I could feel the enthusiasm of all of the players around me, and their passion for the sport. It was incredible to see so many girls at all levels come and compete for the ultimate prize.  The trip was incredible and the experience invaluable for the team, really allowed us to come together as a team."