U17 World Cup
U17 World Cup: Germany coach Christian Wuck wants his team to convert chances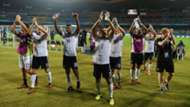 Guinea were dealt a hard blow by Germany in their final group game of the FIFA U-17 World Cup on Friday. The European side went on to win 3-1 against an impressive Guinea side who couldn't convert chances into goals.
Speaking after the game, Germany U-17 coach said that he expects his wards to be more efficient in front of goal but also praised the mentality of his side after a 4-0 loss against Iran in their previous game.
"Yes, I think it was very hard for us to come into this game after the game against Iran. Reactions in Germany was not so good so the pressure on my players was very high. It was important to have a good start. We want to stay cool."
Against Colombia in the Round of 16, Wuck expects better conversion in front of goal.
"I think we have a team who is very strong in the offence. First game against Costa Rica we won 2-1. We can make maybe 5 or 6 goals so this is the point that we have to be better in the next game against Colombia."
There were five changes to the German side from the loss against Iran and Wuck not only admitted that those were tactical of nature but also praised the pitch in Kochi.
"The changes were tactical. I think conditions here in Kochi are better than in Goa. Not so hot and humid. Guinea has a very fast team, very strong team. Also, my players are also fast and strong. 
The pitch is a little different. My players played better here than in Goa. I don't know why. The pitch here is more like in Europe." Wuck remarked.
Despite having more chances and possession, Guinea were undone by their poor finishing. Coach Camara reflected on this aspect of their game and called for improvement.
"We have almost 30 chances in the games played. We haven't been able to capitalize. We will look into this in the coming games."
"They are preparing for future of the country. In 2023 Guinea are organizing African nations championship. Whatever experience they have gained here, they will try to capitalize on their next games." Camara signed off.