Ajax
Traore & Dolberg must step up in Ajax's Eredivisie and Europa League fight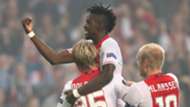 ---
COMMENT
---
When Ajax emerged from the summer transfer window with the additions of Bertrand Traore and Hakim Ziyech, they appeared to have injected a much-needed spark into a floundering attack.
Adding to a forward line consisting of striker Kasper Dolberg, midfielder Davy Klaassen and winger Amin Younes, they were quick and threatening enough to recover from early season stumbles, in which they lost to and drew with strugglers Willem II and Roda JC respectively, and get into the title race.
Now on a six-game winning streak in the league, the Amsterdam side are waiting on leaders Feyenoord to drop points so they can narrow the five-point gap. With the Rotterdammers hosting third-place PSV on Sunday, there is a chance they might do so, but Peter Bosz's men are in danger of slipping up themselves in the deep end of the season as inefficiency haunts their game. As Legia Warsaw showed in their Europa League second round tie, Ajax's attack, though imposing, is not efficient.
Overall, the squad looks better than Feyenoord's. Despite their flaws, the Rotterdam team charge forward with power and pace and seem to overcome any opponent, often by scraping through with late goals, but showing a capacity for pouncing on weaknesses. Ajax, on the other hand, are struggling to kill anyone off. They tend to beat teams lower in the table but should be winning by bigger margins given the time they have on the ball and the calibre of player. With 47 goals in 23 Eredivisie games, they won't reach the 81 they ended 2015-16 with and, although their defensive record is good, it leaves them with a goal difference significantly smaller than Feyenoord's.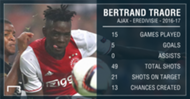 The absent ruthlessness has allowed more capable teams to hold them off. They drew with PSV, Feyenoord and AZ, and lost to Twente, who are all currently in the top six.
Conte's dilemma: Matic or Fabregas?
A crucial issue is down to the inability to get the best out of wingers Traore and Younes. It is tough to work out what it is Bosz wants from them as moves continue to die there.
Traore, initially an attacking midfielder, was used by Bosz as a winger and a striker at Vitesse and was stuck out wide again soon after joining Ajax on loan from Chelsea. His six goals in 22 games in all competitions is not bad, but he struggles by not being a natural for his role. It is clear he is not required to create chances from wide areas – he has no assists - but that Ajax do not play with an overlapping right-back means he is often easy to isolate and double up on, as was evident against Legia in Thursday's second leg. He is tricky and powerful, and manages to get shots away, but he is not a consistent enough threat.
Younes, on the left, is more frustrating. His close control and acceleration allow him to get into more dangerous positions but his shooting is woeful – he has one goal from 49 attempts - but at least has made four assists.
Bosz will be hoping €15 million January signing David Neres from Sao Paulo can add more, arriving as a highly rated 19-year-old who appeared in the squad for the first time on Thursday but did not feature.
Ronaldinho gets hilarious handshakes
Crucially, Ajax have more effective players through the middle. Ziyech, the most creative player in the league, poses a quick, direct threat and has six goals and as many assists in 19 games since his €11m move from FC Twente. However, he hits far too many shots from distance. Ajax are too trigger happy in general – an incredible 201 of their 454 shots have come from outside the box. By comparison, PSV, have made 148 attempts from distance from 436 shots in total. Ziyech is the main culprit, with 64 of his 77 shots having been from long range.
With the pace and movement available, this team should be capable of much better. Dolberg has not replaced the 21 goals of Arkadiusz Milik following his €32m move to Napoli, but his 10 in the Eredivisie are a good return for a 19-year-old who was not even a regular in the reserves last year. The early signs are bright and Dolberg pitches in elsewhere as he makes tidy combinations with Ziyech and Klaassen, and has five assists to his name. His shooting is strong and his positioning is good, but he has not been able to score consistently and Ajax need to see an improvement as the intensity of the campaign increases.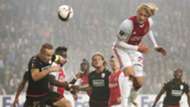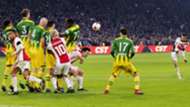 Bosz is lucky to have Klaassen to rely upon. The 24-year-old academy product and captain was constantly going missing in games at the start of the season but often popped up with goals and assists. His presence has grown again without losing efficiency. From his own half he started the move for the goal in last week's 1-0 win over Vitesse, finishing it off with a well-placed shot for his 11th strike to make him the team's outright top scorer, with five assists too.
'Messi in disguise' – meet Jordi Mboula
The forward players are well backed up by Lasse Schone in midfield, who has regained his place as a key player and carves out opportunities, while Daley Sinkgraven, a central midfielder, pushes forward from the left full-back role. Davinson Sanchez, a 20-year-old Colombian signed from Atletico Nacional before the season, has been solid at the back beside Joel Veltman and Nick Viergever. 
Ajax are doing what is needed as things stand and the team have the quality to keep the pressure on Feyenoord. Few questions have been asked of them since they drew with PSV in the last game of 2016, but true tests await: they have games against six of the top nine teams in the final nine weeks, starting with Heracles on Sunday and later on the big two.
Having shown weaknesses against stronger opponents, the likes of Dolberg, Traore and Younes must be more decisive and show that they can combine to make a team ready to capitalise on any Feyenoord slip.