Transfers
'We won't let each other go' - Courtois suggests he'll follow Hazard to Real Madrid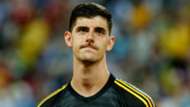 Thibaut Courtois has suggested he will only leave Chelsea this summer if Eden Hazard goes with him, amid rumours linking the pair to Real Madrid.
Courtois, 26, is reportedly a target for La Liga giants Real Madrid with only a year remaining on his contract with the Premier League side, while Hazard has been on their shortlist for the last few years.
But Courtois, who helped Belgium secure third place at the World Cup Saturday, said he may yet remain at Chelsea.
"Now I'm going to talk to my agent to see what the possibilities are. All options are open for me. I may also stay at Chelsea," he told Het Laatste Nieuws.
"People always complain that players don't comply with their contracts, but maybe they do.
"I don't think they will keep someone with my qualities on the bench, even if I don't sign [a new contract]. But maybe [staying] is possible, because I like it in London."
Courtois has spoken before of his links to Madrid, as his children still live there, but the decisive factor over his future could be Hazard, who he is determined to keep playing with.
"Wherever I go, Hazard must come along," he added. "We will not let each other go. We'll see."
Hazard also cast fresh doubt over his club future on Saturday, hinting at a move to Real Madrid.
"Certainly, after this World Cup, I can decide if I want to stay or go, but Chelsea will have the final decision," the attacker said.
"You know my preferred destination."