Arsenal
'Top player' Ozil helping Torreira enjoy flying start at Arsenal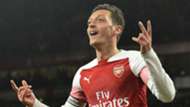 Lucas Torreira considers Arsenal team-mate Mesut Ozil to be a "top player" and believes working alongside such talent has aided his impressive start to life in England.
The Gunners' German playmaker can be a divisive figure, with his laid-back approach earning him as many critics as admirers.
The World Cup winner has flourished over recent weeks, though, with his contribution to the Arsenal cause during an 11-game marking him out as a club talisman.
Torreira, who joined the Premier League ranks over the summer, is delighted to see the 30-year-old performing at the peak of his powers, with there plenty that he can learn from a man who has graced the very top of the game.
The Uruguayan midfielder told Goal after helping Arsenal to a 1-0 Europa League victory over Sporting: "Ozil is a top player. He has already won a World Cup and he has a lot of experience.
"He is a very important player for Arsenal. We want to see him offering everything he knows and we want to see him happy on the field.
"He is playing very well this season and it is a great honour to share the field with him."
Torreira has been thriving himself in 2018-19, with the 22-year-old having required little adjustment time since arriving in north London.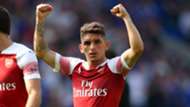 "I'm very happy and enjoying every moment," he said of a new challenge.
"I made a lot of sacrifices to get here, I struggled a lot, so I try to enjoy myself every day, learn more and help the team, which now has 11 consecutive victories.
"I want to continue on this path and to grow more alongside the whole team, which is also growing."
Arsenal snapped up Torreira from Serie A side Sampdoria and have happily thrust him into their side after seeing him slip seamlessly into the fold under the guidance of Unai Emery.
"It's not easy at first," added a man who impressed for his country at the 2018 World Cup.
"When you win it seems that everything is fine, so you have to be calm.
"A new life in England has been a big challenge, a different style of football, the language. I'm studying English as that is something very important.
"I am calm, growing slowly and learning new things. I repeat, I am very happy."
Torreira has been an ever-present for Arsenal this season, gracing all 13 of their fixtures so far and nailing down a starting berth after being eased into the campaign by Emery off the bench.