African All Stars
Toni Payne: American-Nigerian striker leads Sevilla past Tacon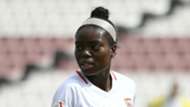 Toni Payne scored the opening goal to help Sevilla to a 3-2 victory over Tacon in an all Spanish club friendly in Valdebebas on Wednesday.
In June, the American-Nigerian forward signed a two-year contract extension following her exploits on her maiden season in Spain.
Payne scored 10 goals and provided three assists in 30 outings last season and has started from where she left during this pre-season.
The ex-USA youth international opened the scoring for Sevilla in the 10th minute - two minutes after she missed finishing off Aedo's cross.
However, the celebration was shortlived for Cristian Toro's side as Asllani leveled matters for the newly promoted Madrid based outfit two minutes later.
A minute after the restart, Lorena Navarro scored to hand Tacon a shock lead but Raquel Pinel helped Sevilla get back into the mix before Karpova scored at the death to seal the victory.
Having opened her account ahead of the new season, Payne will aim to go all the way for Sevilla in the 2019/2020 season.
Sevilla will continue their pre-season activities with another showdown against CD Santa Teresa on Saturday, August 24.