Africa Cup of Nations Qualification
Togo coach Claude Le Roy: Africa's more interested in VIP's than potato field surfaces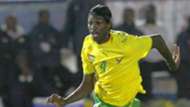 Togo coach Claude Le Roy has backed striker Emmanuel Adebayor for declining to play at Lome's Stade de Kegue citing the poor state of the pitch.
The ex-Real Madrid attacker turned down the opportunity to play after he had been included in the squad, and was also left out of the squad that travelled for the return fixture away in The Gambia four days later.
But Le Roy has come out in defence of his striker who was absent when Togo drew 1-1 at home, before beating The Gambia 1-0 away.
"He has long legs and has a lot of trouble coping with the surface in Lome," LeRoy was quoted as saying by the BBC.
"He didn't play but he was there with us. We will see for (the next Nations Cup qualifier) Algeria but he could also be troubled by that surface too - which is like abominable corrugated iron.
"We have one pitch that is under construction and so we cannot use it anymore and another (pitch) that is a catastrophe, it's a shame. With his long legs, when he trains on it, he has tendinitis, joint problems... he is 35-years-old, he is not very young anymore.
"This kind of terrain ruins him completely at the physical level. You cannot force a player to play, especially since he has problems."
Le Roy went on to blame African football authorities and world football governing body Fifa for the poor conditions of most playing surfaces in most stadiums around the continent.
"As long as Caf and Fifa allow matches on potato fields, it should not be a surprise that African football is struggling. Unfortunately, we are more concerned with presidential chairs in the (VIP) boxes than we are with the surfaces," added Le Roy.