Mohamed Salah
'Today is Mo Salah time' - Liverpool star allowing Egyptians to dream, says Zidan
The exploits of Mohamed Salah at Liverpool are allowing Egyptian youngsters to dream of following in his footsteps, Mohamed Zidan has told Goal, with the 26-year-old proving to be a perfect role model.
Currently starring at Anfield, Salah has graced a European stage for some time, with spells taken in at Basel, Chelsea, Fiorentina and Roma.
It is since moving to Merseyside, though, that he has truly captured the attention of a global audience, with a 44-goal haul last season seeing him land countless awards and earn nominations for the FIFA Best prize and 2018 Ballon d'Or.
Former Borussia Dortmund striker Zidan is delighted to see a fellow countryman gracing the very top of the game and offering inspiration to those who hope to one day follow in his footsteps.
A man who earned 44 caps for Egypt in his playing days told Goal after representing a team of Dortmund legends in a friendly match against Thai side Buriram United: "Now we have a very good team with Mo Salah.
"He's representing Egyptians very well in England and Liverpool. He's doing very good and we all support him always.
"We all have his back and we always pray for him and always follow him because he is representing us as Egyptians and as Arabs.
"He's a good example, as we were before – me and other Egyptian colleagues who played in Europe, like Mido, Ahmed Hassan and many other players who played in top leagues.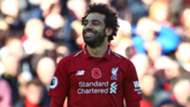 "Now Mo Salah is continuing the legacy of Egyptian players in Europe to make the Egyptian kids keep dreaming, because he's one of us.
"Today is Mo Salah time, it is going very well, he is giving hope to all Egyptians and then in the future it will be other kids from Egypt that will play in Europe.
"It's not easy for them to come to European leagues because football is not as big with as much interest, but they have to keep believing and fighting.
"Now I am happy that clubs from Europe come to Thailand and Asia to make cooperations with clubs."
Salah has been back among the goals for Liverpool of late, with five efforts recorded in his last six appearances.
He has helped Jurgen Klopp's side to make an unbeaten start to their 2018-19 Premier League campaign, while also pushing for a place in the last-16 of the Champions League.
On an international stage, Salah has remained a talismanic presence for Egypt, with a dramatic last-minute winner recorded in his most recent outing as the Pharaohs edged out Tunisia 3-2 in an Africa Cup of Nations qualifier.