Concacaf Champions League
Tigres coping with pressure ahead of Concacaf Champions League final against Monterrey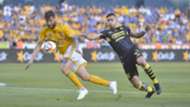 There's something missing from Tigres' trophy case, though perhaps not for much longer. The club has been remarkable this decade, winning four league titles and a Copa MX, but an international title always has been elusive. Tigres nearly lifted the Copa Libertadores in 2015 despite the South American championship being slanted against Mexican teams. Eventually, they fell short in the final with River Plate taking the second leg 3-0. 
That's been the story in the Concacaf Champions League as well, with Tigres looking to avoid a third defeat in the final and lift their first-ever international trophy. Erasing all that history and getting over all those near-misses won't be easy. It's crosstown rival Monterrey standing in the way ahead of Tuesday's first leg at El Volcan. 
Yet despite the pressure of trying to get to the Club World Cup for the first time and finally giving manager Tuca Ferretti a reason to shave his moustache for something bigger than a domestic title (the manager regularly makes bets with his players that his iconic facial hair can go once they lift a trophy), the squad was laughing and joking around Monday in training. Never one to fret about pressure, Ferretti admitted Tigres are desperate to get an international crown though he's not calling this a must-win series. 
"Here the word 'obligation' isn't the right one. I think 'ambition' is the word," Ferretti said with a smile. "We have the ambition to achieve something and get us out of this unfortunate situation, and they also do with not having been able to achieve anything in their new stadium. Which of the two? Wednesday we'll see who achieves the final objective."
It's a final objective Rayados have achieved on three occasions, giving them one area of bragging rights against Tigres. For all the progress Tigres have made, they still haven't broken through and represented Concacaf at the Club World Cup. The potential of Tigres' famously fervent traveling fans showing up at the Club World Cup has excited those fans and the club's directors. What exactly that tournament would look like this year isn't clear, with FIFA modifying the schedule and crafting a different competition. Tigres currently can only focus on doing everything possible to win the prize at hand.
Tigres have used an alternative squad for most of the tournament, but Ferretti will put out his best possible team now that the elusive international title is within grasp.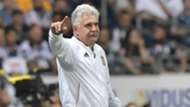 Right back Luis "Chaka" Rodriguez will miss out on Tuesday's game, while winger Julian Quinones recently suffered a knee injury that likely will keep him out several months. Quinones had been key in previous CCL matches, scoring twice in this year's edition. There was good news on the injury front as well, though, with center back Carlos Salcedo fit after resting the last several contests for Tigres and Andre-Pierre Gignac making his return this weekend in a 3-3 draw against Morelia.
The French forward played the full 90 in that match, which wasn't the plan. It'd be a quick turnaround for a player dealing with a knee injury to pop up again three days later, and Ferretti gave many of his planned starters for Tuesday's contest rest in the league game. Gignac is yet to play a minute in the CCL this year, as he's fought to recover from continuing discomfort.
Tigres have the luxury of having a squad in which even the backups would make the MLS playoffs and contend for the Liguilla, but the final has a different feel entirely. Would Ferretti risk playing Gignac against Rayados on Tuesday? Could he start him? Would his poor record against Marcelo Barovero – no goals in seven meetings extending back to that final against River Plate – affect Ferretti's decision?
"Here it's an important thing to have all the players ready to be able to choose the 11 that in your head is the best for the team," Ferretti said. "Now, with the exception of Chaka, I have my whole squad available to me. I'm going to put out those who I think are best for the team"
The pressure will shift in this series. After Tuesday's first leg, everyone will be looking for Monterrey's reaction in its home stadium, the beautiful Estadio BBVA Bancomer. It's gone viral on social media for its gorgeous views, and fans clearly enjoy a first-class facility. They've yet to enjoy, however, a title win there other than the 2017 Apertura Copa MX, a title sullied by having watched Tigres celebrate winning the league on the field just weeks before in the very first final between the two clubs.
Tuesday, however, it's on Tigres to make the most of its home-field advantage and take a step closer to a prize it never has been able to win.