Young Africans
'Tight' Yanga schedule a concern for Lwandamina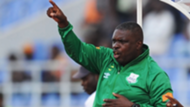 Yanga Head Coach George Lwandamina has urged his players to work hard in order to win all fixtures in all competitions and end the season on a high.
Yanga have qualified for the second round of the CAF Champions League and are also second in the Ligi Kuu Bara standings.
Speaking to Goal Lwandamina revealed that their schedule is very tight and without hard work they will not succeed on all fronts as they are keen to win all titles they are involved in.
"We have five games in 14 days, so l told my players to fight and win all matches in all competitions. I think if we can fulfill our job well, we can win". Said Lwandamina.
Yanga will be away to in their next match to face Majimaji FC at Songea Town in the Federation Cup in the knockout stage of the tournament.