MLS
The MLS Wrap: The moment that swung Zlatan's debut, NYCFC impressing without Villa and more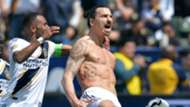 There has never been a more memorable debut in MLS history than Zlatan Ibrahimovic's. A close second probably goes to the new LA Clasico, which lived up to the hype, with the help of Zlatan's heroics of course.
The LA Galaxy's furious rally from 3-0 down to 4-3 up, courtesy of a pair of Ibrahimovic goals, grabbed all of the weekend's headlines, but what is easy to overlook is the exact moment when the match actually swung away from Los Angeles FC to the Galaxy, and it was before the Swedish superstar took the field.
This weekend's MLS slate wasn't just about LA and Ibrahimovic, though. Toronto FC recorded its first league win of the season, New York City FC won another match without injured star David Villa, and Atlanta United showed it can win ugly rather than just via the high-scoring route.
Vancouver continued its impressive road form, while New England showed it can win on the road, something that hasn't been easy for the Revs in recent years. Orlando City finally entered the win column in 2018, though the New York Red Bulls reserve team gave the Lions all they could handle.
These are just some of the storylines from the weekend. Here is a closer look at MLS Week 5:
---
The moment that swung the LA Clasico wasn't Zlatan's golazo
---
The 40-yard Ibrahimovic wonder-goal will long be remembered as the signature moment of Saturday's 4-3 comeback victory by the LA Galaxy, but the moment when the tide initially turned came well before that, while Ibrahimovic was still warming up, and LAFC was holding a seemingly untouchable 3-0 lead.
It began in the 60th minute, when Steven Beitashour poked a ball away from Ashley Cole to spark an 18-pass sequence for LAFC. The expansion side knocked the ball around with ease, leading LAFC fans start chanting Ole for each pass about halfway through the sequence. As the Oles grew louder, the anger among Galaxy players increased, and when the opportunity to stop the sequence came, Servando Carrasco took it, stripping the ball away from Benny Feilhaber and finding Sebastian Lletget for the Galaxy's opening goal little more than a minute after the LAFC sequences of passes first began.
"It definitely felt like a low point, but it motivated us," Lletget told Goal. "When we got that first one everything changed."
"When that is happening in your home stadium, you know it's something that shouldn't be happening," Galaxy midfielder Perry Kitchen told Goal, referring to the series of Oles just before Lletget's goal. "It was good pressure from Servando, then a good ball, and everyone felt like we've broken through and if we get a second then we've got a game."
"The fact I lose a ball in midfield, and we give them a gift of a goal, gave them life and it took away a bit of our confidence and willingness to play," Feilhaber said. "We can't allow ourselves to change the way we play, because we know that we can be very good when we play our style."
LAFC had dominated much of the first 60 minutes of the match by squeezing the Galaxy with consistent pressing all over the field, and lightning-fast counterattack that created plenty of chances. LAFC didn't convert all those chances though, hitting the post once and missing narrowly wide on another occasion.
At the point where LAFC started to knock passes around the field rather than trying to go after the Galaxy's vulnerable defense, it gave the Galaxy some motivation. As the momentum swung in the Galaxy's favor after Lletget's goal, LAFC stopped looking like the same team we saw in the first half, and LAFC coach Bob Bradley's side never did regain that edge.
"There are moments in football games where as a group you have to be resilient," Bradley said. "The first two games things went our way. 3-0 things seem to be going our way, we lost the ball and then at that moment we need to find our way back to playing football the way we can.
"Obviously momentum, and some incredible moments by Ibra and so we end up on the back end," Bradley said. "We'll learn. This game is going to be important for us, it's going to go a long way towards making us a good team."
The Galaxy learned a lesson as well, that continuing to fight, even when you're down 3-0 and watching a rival pass it around you at will, can sometimes lead to defining moments, even if they don't wind up being the moments that people remember.
---
NYCFC showing impressive depth in Villa's absence
---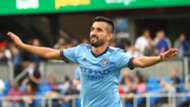 A year ago, as the MLS regular season drew to a close, NYCFC hit a slump that happened to coincide with having David Villa go down with an injury. Even after he returned, NYCFC never quite regained the form the team showed in the summer, and an early exit in the Eastern Conference playoffs ensued.
Fast forward to 2018, and Villa was forced to miss his third straight match in Saturday's NYCFC visit to San Jose. He was a late scratch after feeling a groin injury during pregame warmups, and NYCFC went on to win without him, posting a 2-1 victory at Avaya Stadium. The victory made it seven points from three matches without Villa, and a total of 13 points, most in MLS after five weeks.
"It was a really big team performance," NYCFC coach Patrick Vieira said after Saturday's win. "The last 15 minutes was really hard for us and we showed really good character."
The Earthquakes took the early lead on NYCFC after just three minutes, but an improved second half led to a pair of goals, including Maximiliano Moralez's winner, to keep NYCFC undefeated.
Villa's recent absence has allowed NYCFC to show off the improved depth the team added this past winter, with Ismael Tajouri and Jo Inge Berget giving Vieira better forward options behind Villa than he had in 2017. On Saturday, NYCFC also coped without injured midfielder Alexander Ring and recent left back standout Ben Sweat, who was ill. Vieira had no problem filling in those key lineup voids on Saturday.
Make no mistake, NYCFC will need Villa healthy and firing in order to make a serious run at an MLS Cup title, but NYCFC has shown it can win without him, and it has the players to help lighten his load, which should help him later in the season, and in the playoffs.
---
Quick Kicks
---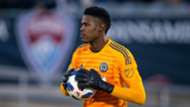 When the Philadelphia Union opened the season with a pair of shutouts, you had to think Union coach Jim Curtin was feeling good about how his team's defensive youth movement was going. Curtin decided to push the envelope by making his defense even younger against the Colorado Rapids, starting Matt Real at left back, to give the Union four young defenders across the back line. The result was a 3-0 loss to the Colorado Rapids.
Now Real wasn't the reason they Rapids lost — Jack Elliott was the worst of the Union's defenders on the day — but Saturday served as a harsh reminder of the kind of growing pains the Union will endure if they stick with playing kids along the back-line.
—
Minnesota United defender Francisco Calvo picked a strange time to complain about his team not getting enough respect. After Saturday's 1-0 loss to Atlanta United, which came despite the Loons being up a man for 52 minutes at home.
"I know you are not asking me this, but I want to say this. I'm tired of how Major League Soccer gives a lot of credit to Atlanta or (expletive) LAFC," Calvo told reporters Saturday.  "Because it's weird how Minnesota wins and Major League Soccer is, 'Eh, OK, Minnesota wins,' but Atlanta wins and LAFC wins and they make a show. They make a show. I don't know why. I think we deserve more respect in this league, alright. I'm tired of that because, I mean, we are 23 teams in this league, so we deserve more respect in this league."
Did Calvo have a point about the Loons not getting enough credit for a good stretch late last year, when they recorded some very impressive victories? Yes, there have definitely been instances when Minnesota United hasn't received the credit it deserves for recording some good wins, but after Saturday's loss wasn't really the right time to complain about it.
As for why teams like Atlanta and LAFC generate more attention than the Loons have, it's pretty simple. Both teams are significantly more entertaining and boast more star power, and therefore generation more attention.
When Minnesota United starts to play consistently attractive winning soccer, and fielding star power the likes of Carlos Vela and Miguel Almiron, then the Loons will start to generate more positive attention. it's going to take more than a Darwin Quintero signing, or some poorly-timed complaints, to change that.
—
Speaking of Vela, his latest outstanding showing for LAFC wound up overshadowed by Ibrahimovic's heroics. One spectator who still took notice of Vela's two-goal effort was Mexico coach Juan Carlos Osorio , who was in attendance, and told Goal that he sees Vela in good form and fitting right in with his new team. That being said, it's a safe bet Osorio wishes that Vela had stayed in Spain rather than coming to MLS just before the World Cup.
—
Kei Kamara exacted some revenge against his former team, the Columbus Crew, scoring the winning goal in Vancouver's 2-1 win over the Crew on Saturday. Traded away by the Crew in 2016, Kamara reveled in scoring against his former team, but chances are he's even happier to be playing well for his new team. The Whitecaps sit in a tie for first place atop the Western Conference, with Kamara having scored three goals in four matches.
---
Best of MLS Week 5
---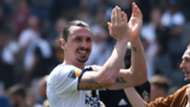 PLAYER OF THE WEEK : Zlatan Ibrahimovic. With apologies to Dominique Badji's hat trick, Zlatan's superhero cameo, including his 40-yard wonder-goal, helped the Galaxy win an inaugural LA derby, and shocked the world.
TEAM OF THE WEEK : Vancouver Whitecaps. Another impressive road win for Carl Robinson's men, beating a touch Columbus side at Mapfre Stadium.
ROOKIE OF THE WEEK : Real Salt Lake midfielder Corey Baird scored his first professional goal in RSL's loss to Toronto FC.
GOAL OF THE WEEK : There's no debate this week. Ibrahimovic's debut MLS goal is one for the ages:
This is a thing that happened. #zLAtan pic.twitter.com/vY5KzyYnaW

— Major League Soccer (@MLS) April 1, 2018