MLS
The MLS Wrap: New system offers potential glimpse into LA Galaxy's future with Zlatan Ibrahimovic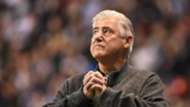 There may have only been six matches on the schedule, but the fourth week of the Major League Soccer season still provided plenty of storylines that will be worth following as the campaign rolls on.
We watched the LA Galaxy take a patchwork lineup to Vancouver and earn a hard-fought 0-0 draw against a Whitecaps side that is normally dominant at home. As much as the draw served as a good showing by the Galaxy's bench options, it was perhaps more significant for the system Schmid deployed, which we could see plenty of when Zlatan ibrahimovic arrives.
Speaking of confidence-building draws, the Portland Timbers earned a sorely needed point in Saturday's 1-1 stalemate with FC Dallas, a result that gave Giovanni Savarese his first point as Timbers coach, and eased some of the building pressure in the Rose City.
New York City FC saw its perfect record tarnished, but Patrick Vieira was still understandably content with the 2-2 draw his team earned against New England. Playing without David Villa, Rodney Wallace, Alexander Ring and Anton Tinnerholm, NYCFC still played well enough to stay undefeated, while enjoying a breakout performance from Ismael Tajouri.
These are just some of the storylines from the weekend. Here is a closer look at MLS Week 4:
---
Galaxy's 3-5-2 a glimpse of their Zlatan future
---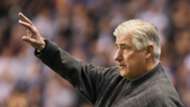 Zlatan Ibrahimovic's looming arrival in Los Angeles was the talk of the league last week, and the Galaxy will have to figure out how to build their team around the Swedish star. Saturday's match in Vancouver may not have featured many of the stars who will eventually line up alongside Ibrahimovic, but we did get a look at a system he could wind up fitting in best.
The Galaxy already have an accomplished striker on their squad in Norwegian goal machine Ola Kamara, who scored a hat trick for Norway on the same day Ibrahimovic's signing in Los Angeles was announced. Kamara's performance served as a clear reminder that Schmid is going to have to find a way to keep Kamara on the field, even with the arrival of the team's newest star signing.
"We're going to have to try and figure that out," Schmid told reporters after Saturday's 0-0 draw with Vancouver. "I didn't want to think about that a whole lot (before Saturday). I wanted to make sure we had this game plan right. I'll probably throw some lineups or different formations on the board and see what I think works and what makes sense."
Schmid deployed a 3-5-2 formation against Vancouver, which provided a glimpse of what just might work best for the Galaxy's personnel. Schmid doesn't have a back four that can be considered strong enough to cope with just one defensive midfielder in front of the defense, and playing four midfielders means having to leave a quality midfielder on the bench.
The question is whether the Galaxy have the players capable of handling wing-back roles well. Rolf Feltscher played well as a right wing back against the Whitecaps, and while David Romney was passable as a left wing back, the Galaxy also have veteran Ashley Cole, who has spent most of his career playing the traditional left-back role in a four-man defense.
The shift to a 3-5-2 also wouldn't necessarily address the logjam in midfield if Schmid isn't planning to play the likes of Sebastian Lletget and Emmanuel Boateng as wing backs. Atlanta United has had success with reigning MLS Rookie of the Year Julian Gressel as a midfielder adapting well to a wing-back role.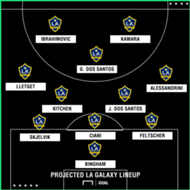 That would require players like Romain Alessandrini and Lletget to buy into playing positions they have never played before, which is far from assured. That's the challenge Schmid will be facing with Ibrahimovic's arrival.
And if the 3-5-2 doesn't show itself to be a good fit? Then Schmid will likely have to fashion a midfield quartet consisting of the Dos Santos brothers, Alessandrini and Perry Kitchen, which would leave Lletget as odd man out of the starting lineup (though given how often Alessandrini and Giovani dos Santos find themselves injured, Lletget should still see plenty of time).
Schmid won't be able to really find out his best lineup until the Galaxy actually get healthy as a team. Right now Schmid is still a ways away from having all of his best players available, which is a problem — but it might be a problem that helps him look at some different solutions before he is faced with getting all of his big pieces to fit together.
---
Sporting KC keeps scoring, and leaking, goals
---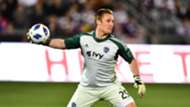 Sporting Kansas City has scored and allowed the most goals in MLS through four weeks, two distinctions few would have pegged before the season began. To put Sporting KC's uncharacteristically poor defensive start to the season into perspective, consider that it took 11 matches for SKC to reach nine goals allowed in 2017, while this year's defense has already surrendered nine goals in four matches.
Peter Vermes isn't too worried, not with his team scoring goals in bunches, and not after seeing his team rally from 2-0 down to grab a road draw in Colorado. Sporting KC has notched nine goals in its first four matches, half the time it took SKC to reach the same mark a year ago.
"What was shown tonight was our mentality," Vermes told reporters after Saturday's draw. "We have a great mentality, there's a great belief in the guys and in themselves. They believe in what we're trying to do and to come back against a team away from home and in their home opener, there's so much energy. You've got to fight through that and we did that."
Sporting KC is sitting atop the West standings, and a stretch of three home games in four matches awaits. SKC is still in the market for a striker, but what was once seen as a pressing need suddenly seems like something Vermes and his team can put off until the summer window.
What can't wait is the team's need to slow down the goals allowed. Surrendering two goals in the first eight minutes against Colorado was rattling, but the way SKC settled down after that poor start should offer something to build on.
"The good thing about it was we came in at halftime and made some adjustments," Sporting KC defender Ike Opara told reporters on Saturday. "Those adjustments are going to bode well for us moving forward."
---
Quick kicks
---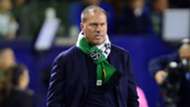 Giovanni Savarese needed his team to deliver a result on the road against FC Dallas in order to avoid beginning 2018 with three straight losses, and he made some tough decisions that paid off in Saturday's 1-1 draw.
First, Savarese chose to bench veteran Liam Ridgewell, choosing instead to give Bill Tuiloma his MLS debut. Second, Savarese set up the Timbers in a 4-3-2-1 system, with a flat-three in front of his back line to help offset the absence of David Guzman and in order to neutralize Dallas playmaker Mauro Diaz.
The moves paid off, with Tuiloma partnering well with Larrys Mabiala in central defense, and with Diaz kept quiet for much of the match.
"Very pleased with the work of the players," Savarese said after Saturday's draw against FCD. "I thought they showed a lot of discipline, they worked together, the communication was very good, and I thought we created some interesting opportunities and we could have gotten a little bit more from the game."
The result should give the Timbers confidence heading into the fourth match of a five-match road swing to start the season. They next take on a Chicago Fire side still searching for their first win.
---
Best of MLS Week 4
---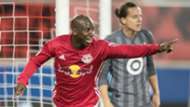 PLAYER OF THE WEEK: Bradley Wright-Phillips. The New York Red Bulls striker continued his outstanding form with a double in Saturday's 3-0 win against Minnesota United.
TEAM OF THE WEEK: The LA Galaxy took a severely shorthanded team to Vancouver and earned a draw in a very tough place to play.
ROOKIE OF THE WEEK: Tomas Hilliard-Arce stepped into the LA Galaxy starting lineup and helped them post a shutout in Saturday's 0-0 draw with Vancouver.
GOAL OF THE WEEK: Sebastian Blanco's left-footed blast for Portland was impressive, but Sporting KC forward Diego Rubio's stoppage-time equalizer takes the nod because of the buildup, and the finish in the final moments of Saturday's 2-2 draw.
Sub in, score a goal! Diego Rubio equalizes for @SportingKC. This one's not over yet... #COLvSKC https://t.co/EXp5Ny2JER

— Major League Soccer (@MLS) March 25, 2018