PSL
The load on Sundowns players is too heavy, bemoans Mosimane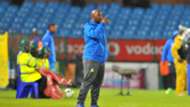 Mamelodi Sundowns' resurgence in the league continued on Sunday afternoon as Motjeka Madisha scored the only goal of the game in the 1-0 win over a plucky Free State Stars, and therefore keeping their title dreams alive.
While Sundowns' lacked the ruthlessness in front of goal, coach Pitso Mosimane was pleased with his side's performance in Orkney.
"At this point in time, it's a game of one goal to win," Mosimane said post-match.
"It's not a game of five goals or six. You got to take what's on the table and what was on the table today was one goal and three points. We tried to score, especially with set pieces. Thela (Ngobeni) didn't want us to score... the goal post didn't want us to score, but we were a little bit tired. The sun and also the heavy legs," said Mosimane.
"The last 20 or 30 minutes you could see, we were not there. We just soaked up the pressure and dragged the game until it finished," Mosimane added.
Mosimane also bemoaned the tight schedule and acknowledged that the congested fixture list is beginning to take its toll on the players.
"Khama (Billiat) has got tight hamstrings, Thapelo (Morena) has tight hamstrings, Percy (Tau) has got two tight hamstrings," he continued.
"So, it's our life, we just got to manage them and try and stay away from training sessions and play the next game. The load is a bit heavy, I must tell you. We are feeling it but we are mentally strong and we want to win the games. If you are mentally strong and want to win the game, that's important, then you can win the game," Mosimane expressed.
"Maybe we will have to change a few legs. Muzi (Mzikayise) Mashaba was a forced change, he got a knock on the thigh. You know when you are limping to the finish line, we'll limp to the finish line as long as we can score one or two, it's OK," he said.
The 52-year-old also expressed his admiration for veteran midfielder Paulus Masehe, who put in a solid shift on the day, marshalling Billiat throughout the encounter.
"I have big respect for Paulus Masehe. At that age, and being able to be fighting with Khama (Billiat). Khama outsprints many people and he did his best, and at that age to be able to play with that intensity and maturity. He gives everything for the club, I take my hat off." Mosimane concluded.