Manchester United
The kids are NOT alright - Mourinho making a mockery of his own claim that he works well with youngsters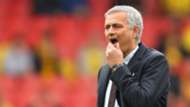 ---
COMMENT
---
Perhaps it was no coincidence that this was the week Manchester United tied down academy product Jesse Lingard to a new four-year deal. After months of negotiations, the 24-year-old winger penned a £100,000-a-week contract which gave Jose Mourinho the chance to promote his apparent vision for the club's youngsters.
 "He's English, made in the academy. They're very important in the club these players made at home, so it's a very important contract," the manager said of Lingard. But coming in the wake of criticisms of other young players it was a notable reminder of how he had set his stall out when first becoming United boss last summer.
"I know the history, I know the legacy, I know what is behind me. I know what the fans expect of me," he said in his introductory press conference in July 2016. "I want everything. I want to win matches, I want to play well, I want to play young players, I want to score goals, I don't want to concede goals."
As he prepares to take his team to Sunderland on Sunday, he's getting very few of those things. United have won just six of 16 home league games this season and sit well adrift of top-four contention. They have far too often of late been drawn into playing long balls to Marouane Fellaini and Zlatan Ibrahimovic in the opposition box. They are scoring nowhere near enough goals.
And perhaps must worryingly of all, Mourinho has not just failed to make any real use of United's promising youngsters, he has now taken to public decrying their lack of polish. If anything, he has simply supported the view many observers have always had about him that he simply does not trust younger players to come through with the goods.
Back in July he had anticipated questions about his suitability to lead a club famed for its production line, carrying with him a handy piece of paper with a list of his supposed graduates.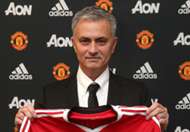 "I promoted 49 players from the academies from the clubs, and with two factors that are very important," he announced. "And I never promote players because of a need, I did it because of conviction and decision.
"One lie repeated many times sometimes it looks that it's true, but it will be always a lie. FORTY NINE! And if you want the names I'll give you the names."
The problem was that on closer inspection his list, which actually contained 55 names by the time it was emailed to the press, included 23 players who had played a single game – largely in early cup rounds – and three who played only one minute under Mourinho. There were also six players who had extensive first-team experience before meeting the Portuguese, including Arjen Robben who had 102 league appearances to his name before being 'discovered' by Mourinho.
Cantona: The Man Utd legend's best & most controversial moments
No doubt if he were to send a revised list around, the likes of Marcus Rashford, Anthony Martial, Lingard and perhaps even Luke Shaw would be included in his dossier along with Axel Tuanzebe and Joel Pereira, who were given debuts once United had opened a big lead against Wigan in the FA Cup in January.
Louis van Gaal might well have been a massive disappointment on the whole as United manager but one charge that certainly couldn't be levelled at him was a refusal to give youngsters a go. He perhaps went too far down that path, reducing his squad numbers to the point that he ended up throwing in the likes of Joe Riley, James Weir, Regan Poole and Donald Love when they had done little to show they were truly ready for first-team football.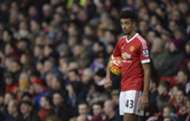 There were, of course, success stories though. Rashford became an England international after one of the more meteoric rises in recent times between February and May 2016, Lingard excelled in his first full campaign, Timothy Fosu-Mensah quickly became one of the most combative players on the club's books, while Cameron Borthwick-Jackson soon proved he was more than adept as a left-back.
But under Mourinho each has had their difficulties. And while Lingard's have arguably been to do with him reaching a natural plateau, the remaining trio may all have claims to have been sold short by their manager.
Rashford has been a hit off the bench for much of the season, but has looked short on confidence for a period of some months, yet it didn't stop Mourinho for blasting his lack of consistency after the 0-0 draw with West Brom. The 54-year-old tried to temper his criticism somewhat following the 1-1 midweek draw against Everton, but there is an obvious lack of complete trust of the type Mourinho has in Ibrahimovic.
Fosu-Mensah has become the forgotten man of Old Trafford having been retained in the United squad this term only to been constantly overlooked. His three starts this season all came in the early rounds of cup competitions while his one and only taste of league action was handed to him 45 seconds before the referee blew for full-time in the 3-1 win at Swansea. Put a gold star next to that one in your file, Jose!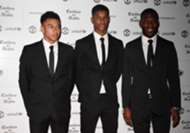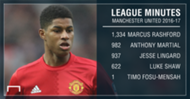 Meanwhile, Borthwick-Jackson's form of last term has fast become a thing of the past. Far from being the first alternative to Luke Shaw at left-back, he was sent out on loan to Wolves where he was soon jettisoned by Paul Lambert after the Scot took over from Walter Zenga. Mourinho had the option to recall the 20-year-old in January but chose to let him fester in the Wolves ranks. He has been sporadically sent back to join Nicky Butt's under-23s one game at a time under a loan loophole, pushing the youngster from pillar to post barely 12 months on from being nothing short of a revelation.
And as for Shaw! While there may be very viable concerns about the England star's progression, Mourinho's public shaming of a 21-year-old kid has done nothing for any of the concerned parties.
"It was his body with my brain because he was in front of me and I was making every decision for him," Mourinho said of Shaw after his sub appearance against Everton. "But he cannot play with my understanding of the game, he must understand the game, he must think and he must accelerate the process because 21 years old is old enough to have a better understanding of the game."
It was just the latest in a season-long list of digs at Shaw, and it calls into question his ability to handle the full-back. More than that, it underlines serious misgivings about his attitude towards younger players full stop.
He won't play some, he points the finger at others, but where are the young talents Mourinho can get the best out of?