Neymar
'The future belongs to Neymar' – Paulo Sergio says PSG ace is Brazil's World Cup key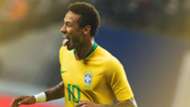 Former Brazil international Paulo Sergio has hailed the qualities of Neymar but says that the Paris Saint-Germain forward is not yet ready for the responsibility of captaining the national side.
The 26-year-old is currently on the sidelines nursing a broken bone in his foot, but he is expected to return to action in time to lead his country's push for the World Cup.
And former Bayern Munich man Sergio believes that he is an important figure for the Selecao, despite the national team's strong performances of late.
"The future belongs to him," he told Goal . "For Neymar the chance to become a big player in the world is there, but we have to wait. He is young and will make his way.
"In the last four months Brazil have done a lot well. We qualified for the World Cup easily. Tite has done a great job. It´s a pity they lost Neymar. We will have to wait and then see. He is a very important player because in attack he is amazing."
Despite the PSG player's qualities, Sergio does not believe leadership is one of those.
"I don't think Neymar is a captain, he just has to think about football," he said. "We've already seen him as a captain and he had some difficulties. He doesn't think about being the captain, he only thinks about the national team."
Meanwhile, Gabriel Jesus scored the winner in Tuesday's 1-0 victory over Germany, but while the Manchester City striker carries potential, he's no Neymar – yet.
"I think Gabriel Jesus isn't there yet, he is a very young player," he said. "For us Brazilians the most important player is Neymar. If Neymar is in good form, he can push the rest of the players to play a great World Cup."