Croatia
'That's how we felt' - Modric sticks by World Cup comments despite 'huge respect' for England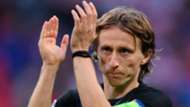 Luka Modric was critical of England's pundits for underestimating Croatia at the World Cup, but the Real Madrid man says that there is respect between the group of players.
England got a small measure of revenge for their semi-final defeat in Russia by coming back from Andrej Kramaric's second-half strike thanks to two goals from Jesse Lingard and Harry Kane to take a 2-1 win on Sunday. The win sees England through to the inaugural UEFA Nations League semi-final, while Croatia were relegated to Group B.
Modric, who said during the World Cup that England's pundits "should be more humble and respectful", was guarded when asked about his controversial comments, but was keen to speak of respect between the players and coaches of each team following Sunday's loss. 
"We just said how we felt at the World Cup, we don't need to go back and talk about it," Modric said. "This is a new game and we don't need to look back and make more comments about it. It is the same as before, I don't care.
"Of course, of course, [we respect England]. We said what we meant and how we felt at the tournament and that's it. I don't want to change what we said because that's how we felt. It doesn't matter what we say because between players and teams there's a huge respect.
"We respect England and they respect us. I didn't mean the players and coaches, I meant the people around England."
Modric's Croatia side reached their first ever World Cup final after Ivan Perisic and Mario Mandzukic's extra time strike ended the Three Lions' hopes of international glory.
The Croatia star won the Golden Ball as the best footballer at the World Cup and he is now the favourite to pick up his first Ballon d'Or in December, having claimed top spot in the Goal 50.
But the midfielder believes that the future is bright for England, who have followed their own World Cup semi-final run by earning a spot in the last four of the Nations League. 
"That's maybe more of a question for them to assess if they are improving or not," he added. "I see them as a good team, a young team and they have a bright future in front of them. They are in the final four of the Nations League, it is showing that they are in a good way.
"We lost this on set-pieces. You know, it is a bit painful to lose it in this way because we didn't want to [lose]. We prepared well for set-pieces, we knew that England is dangerous from set-pieces but in the end they scored two goals.
"It is painful but apart from the first 20-25 minutes, we were the better team. They could have scored one or two goals at the beginning but then, when they didn't, we started to dominate the game. We scored that goal in the second half.
"We needed to score the second one and that would have been the end for them probably. In the end, we didn't. Then, they scored two goals and won."