Victor Lindelöf
Sweden play down Lindelof injury fears after he's taken off at half-time of win over Turkey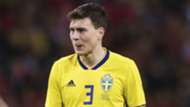 Sweden have played down fears surrounding the fitness of Victor Lindelof after he was substituted at half-time of his side's win over Turkey.
The Manchester United defender was taken off in place of Filip Helander after the first 45 minutes of Sweden's 1-0 UEFA Nations League game against the Turks.
However, head coach Janne Andersson reassured fans there is no serious issue with the 24-year-old, with his team-mate Helander insisting his struggles on the pitch were related to him having a cold.
"Victor did not feel well but he finished the first half," he said, as quoted by  Sky Sports .
"Then Filip came on and did not make a mistake, so Filip played very well."
Helander added: "It was a cold. He [Lindelof[ felt ineffective."
In Lindelof's absence, Sweden set up a winner-takes-all clash with Russia in Nations League B Group 2, while also confirming Turkey's relegation.
With Russia currently on seven points, and the Scandinavians on four, whoever emerges victorious in Stockholm will gain promotion to League A.
Sweden will hope that Lindelof is available for clash, with the United man having become an important member of the squad, and with 26 caps he is one of the more experienced players in the side.
Indeed, he was crowned as his country's player of the year recently - an award that had been won 10 times in a row by former United striker Zlatan Ibrahimovic until 2016.
The defender has played in all three of his country's Nations League games so far and was a key figure in Sweden's run to the World Cup quarter-final.
Lindelof missed the opening game of the tournament through injury, but played in his country's next four games in Russia.
The former Benfica man has also become a permanent fixture in Jose Mourinho's team. He has started the last six in all competitions and is beginning to form an established partnership with fellow centre-back Chris Smalling.
When he returns from international duty, Lindelof and his United team-mates face Crystal Palace before a hugely important Champions League fixture against Young Boys.