Premier League
Swansea boss admits mistakes with Dede and co. substitutions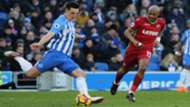 Swansea City manager Carlos Carvalhal has admitted making a "mistake" with his substitutions in Saturday's heavy defeat to Brighton and Hove Albion in the Premier League.
It was a massive setback for the Jack Army, who were handed a 4-1 drubbing at Amex Stadium.
One-nil down by the 18th minute, Carvalhal decided to bring on Andre Ayew for Nathan Dyer in the 36th minute, the change being only the first of two more attacking moves.
"We made some mistakes that we don't usually make," Carvalhal said.
"When we were losing 1-0, I thought we must move things around because we were not happy.
"We put Andre on in the first half to try to help us. Dyer is more of a winger while Andre is more of an attacker, so we put him on near Jordan Ayew to try to make us more of a threat.
"The substitution was not about Dyer – he is playing very well.
"But we took some risks. We put Luciano [Narsingh] on at half-time and in that period we did well.
"We almost scored twice, through Luciano and then Ki [Sung-Yueng], then we took some more risks by putting Tammy on for a midfielder.
"We took all the risks because we were not happy to be losing. We wanted to win."
Glenn Murray scored twice to put Brighton 2-0 up by the 69th minute, before Anthony Knockaert and Jurgen Locadia added two more for the home side.
Swansea's sole effort was a Lewis Dunk 85th minute own goal.
"We placed a big bet – we had Tammy, Jordan, Andre and Narsingh on the pitch at the same time. When you do that, you can win a lot of money or you can lose all your money," Carvalhal added.
"We knew it was possible we could change the game but also that they could hurt us on the counter-attack.
"I must be a critic of myself. I took the risk and maybe I could have waited until later to put Tammy on.
"But if you take a risk as a manager and it comes off, you are a genius. If it doesn't happen – this is football.
"We tried everything to win. We placed a big bet and we lost the bet."
Swansea have consequently fallen back into the relegation zone.