Transfers
SuperSport United signed Azubuike Egwuekwe without a trial, says Eric Tinkler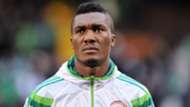 SuperSport United recently unveiled Nigerian Azubuike Egwuekwe as the club's latest signing on a three-year-deal.
The Nigerian joins Matsatsantsa from Finnish side Kuopion Palloseura (KuPS)' and was once a target of English Premier League side West Ham United. The 28-year-old also brings with him a wealth of international experience having previously made 34 appearances for the Super Eagles.
Nonetheless, SuperSport coach Eric Tinkler has certainly been impressed by the club's latest acquisition, and stated that while he had only seen videos of Egwuekwe, he was impressed enough to bring the Nigerian to the club.
"He's a player who we obviously scouted," Tinkler was quoted by The Sowetan as saying.
"We saw quite a few videos and obviously also spoke to a few people in Nigeria just to make sure that he's been playing.
"And it's always hard when you sign some of the foreign players' to do it off videos and opinion alone.
"But all the information we got regarding him was all very positive. So, he was basically one who we signed without a trial," Tinkler explained.
Egwuekwe is a towering central defender, who also has an eye for goal, and Tinkler is optimistic that he will fit right in at the Tshwane-based outfit.
"Yes' of course' when you see how big he is you would expect that," Tinkler said of the defender's goal scoring ability.
"Today I got my first opportunity to really see him and where his level of fitness is'" the coach said.
"Although he has been playing. In fact, he was supposed to have joined us last week but the club (KuPS) requested that he play one more match – they needed him.
"So we granted that' and now he's joined us. So, his fitness levels should be OK and once we get the work done with him' he'll join straight in.
"We wanted to bring someone in who has that experience and create that proper competition that we need in the centre of defence.
"And obviously somebody who's going to be here long-term," Tinkler concluded.