AIFF Super Cup
Super Cup 2018: Avram Grant - Gokulam Kerala showed more desire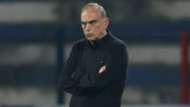 I-League side Gokulam Kerala continued their fine form as they beat Indian Super League's (ISL) NorthEast United 2-0 in Super Cup qualifiers to book their place in the round of 16. Henry Kisekka netted a brace to seal a memorable win for the newbies in Indian football. 
The day started with Churchill Brothers' triumph over Delhi Dynamos and Gokulam ended with a fantastic win over the John Abraham co-owned side.
After the win, Gokulam coach Bino George said, "My boys had never played such a big tournament. They've only played at the college level. They started to understand I-League slowly. Later, we even got the addition of Musa, Henry Kisekka and Al Ajmi and then I changed the tactics in a way depending on what they could provide help to the youngsters."
It was an evenly contested encounter but Gokulam were more clinical in the attacking third which helped them in clinching the tie. Speaking about the match, Bino said, "Even the ball possession today was 50-50. I checked it myself. We created more chances. In the pre-match conference, I said that my boys can play very well here because the momentum has been high. Our performances in the last games has been the best. We had conceded very silly goals."
Gokulam next face Bengaluru FC in the round of 16. But a confident Bino George suggested that his team is up for the challenge. "I know Bengaluru is a big budget team; the best in India right now. But my players have no fear right now. Whoever may our opponent be, we will try our best," said an ecstatic George.
The coach also revealed that the team had plans of visiting the Middle-East for an early pre-season camp ahead of the 2018/19 season. He said, "Our plan was to visit the Middle-East but now we have qualified for the next round of Super Cup. This tournament will give a lot of experience to our boys because they will face ISL teams. They had been watching them (ISL players) as film stars! This will be a new experience for them."
Former Chelsea and West Ham United manager Avram Grant who is in charge of NorthEast United FC acknowledged that the better side won today. "I think the reason for the loss was both the lack of finishing and poor defending. First we missed our chances and they scored. To be honest the team which won showed more desire; they wanted to win it more than us. They deserve it, in my opinion," suggested Grant.
Avram mentioned that a lot of things need to improve at the club and he would suggest the team management to bring in the changes as soon as possible. He said, "I think, in the second half of ISL, the things weren't so bad. The results were better. We played well most of the games. But today wasn't the football we play. There are a lot of things we need to get better and I will speak about this with those in-charge."