NPFL
Sunshine Stars coach Julius gets one-year ban for attacking Lobi Stars keeper Egbe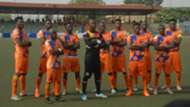 Kayode Julius, one of the coaches with the Nigeria Professional Football League (NPFL) side, Sunshine Stars has been slammed with a one-year ban for improper conduct by the League Management Company, LMC.
Julius was found guilty of attacking Lobi Stars goalkeeper, Ospino Egbe during the rescheduled Matchday 2 fixture between his club and the Pride of Benue.
Via an official statement, the LMC noted that the Sunshine Stars coach breached the Code of Conduct.
"Kayode Julius, a coach with Sunshine Stars has been charged for breach of Code of Conduct (Appendix E) of the NPFL Framework and Rules in the course of the rescheduled MatchDay 2 fixture between his club and Lobi Stars
"Kayode was charged for violent assault on a player of Lobi Stars, thereby failing to set positive example for players and supporters.
Bizzare scene in #Akure.... Our Goalkeeper, Ospino Egbe, down in serious pains after he was attacked by @SunshineFCAkure Chief Coach, Kayode Julius, before today's rescheduled #NPFL match. pic.twitter.com/0zuIU5Ehqa

— Lobi Stars FC (@LobiStars) April 11, 2019
"The LMC has consequently suspended Kayode Julius from all NPFL match venues and activities for one year," the statement from the league organisers read.
Sunshine Stars are only out of the relegation zone due to their superior goal difference and will now be under added pressure.