African All Stars
Suarez inspires me to score goals, says Mohammed Umar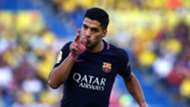 After his brace sealed the victory for Government Secondary School, Damaturu, Mohammed Umar admitted his role model and Barcelona star Luis Suarez inspired him to score goals.
 
Umar netted twice to ensure the Yobe boys overcame Government Secondary School, Yola in their second match of the Bauchi regionals at the Government Technical College field.
 
"I like to play like Suarez [Luis] of Barcelona ," Umar told Goal . He continued: "He is a good goal scorer and I want to play and score goals after him. He inspires me to score goals."
 
He revealed that his side is determined to give everything to secure victory in their final games to qualify for the national finals in Lagos.
 
"I'm so much happy for the goals I scored and really impressed with my team's performance.
 
"I worked for those goals and it is a great feeling for me. We won our second game and It was good for us as we hope to win the qualification ticket.
 
"I'm proud of my goals and helping my team win today. I believe it will encourage me to score more in this tournament.
 
"I want to show I'm a good player for the future and I'm very grateful to Copa Coca-Cola for giving me the platform."