Kaizer Chiefs
Steve Komphela: Trophies should be more of a reinforcement than redemption for Kaizer Chiefs
South Africa Chief Editor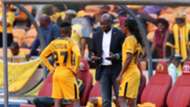 Coach Steve Komphela believes Kaizer Chiefs are on the right track to achieving greater things despite their lack of success in terms of trophies over the past two-and-half years. 
According to the 50-year-old mentor, Amakhosi are now at the performing stage having gone past what he describes as the first three phases towards success - forming, storming and norming stages. 
Since Komphela's arrival at Naturena in 2015, Chiefs have managed just two cup final appearances which they lost to both Ajax Cape Town and Mamelodi Sundowns in his first six months in charge.
The Soweto giants haven't really been able to mount a serious challenge in the league, and with the Nedbank Cup their only hope of salvaging what has been a poor campaign, Chiefs can't put the foot wrong. 
The entire team has come under heavy criticism from the fans, and while Komphela keeps on soaking up the pressure, his contract is unlikely to be renewed at the end of June 2018. 
"I am sure those who remember when we explained the development stages of any team, will tell you that we said in the first year of any team's formulation there is a forming stage; we have gone past that," Komphela told the media.  
"Then after the forming phase, there is the storming stage where there is dynamics in terms of those coming in and those likely to go out," he said. 
"After the storm, then it's a norming stage. We have gone past the forming, the storming, and the norming [stages]. I think Chiefs is at the performing stage where getting results or winning trophies will be a positive reinforcement to players than a redemption," explained Komphela.  
"After excelling, then the team comes to adjournment, which is where Real Madrid are at the moment. You always have to look for a long-term plan," he continued. 
"So, you literally have immediate, medium and long-term plans for Chiefs. Now we're working for the process, that's where we are. Trophies should be more of a reinforcement than a redemption," added Komphela.