African All Stars
'Stay strong big man' - Football world sympathises with Carl Ikeme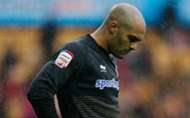 Nigeria international and Wolverhampton Wanderers' Carl Ikeme was diagnosed of acute leukaemia and football fans across the globe have lamented the sad news.
The Super Eagles goalkeeper has been first-choice at Molineux for the past five seasons, but his pre-season preparations were dealt a blow when he returned some abnormal blood tests.
This got people talking, with the football world weighing in.
Stay strong big man! Wishing you my best! @Carl_Ikeme  https://t.co/Y7nMVbZ2Xh

— Matt Jarvis (@MrMattJarvis) July 6, 2017
Absolutely gutted to here that @Carl_Ikeme has leukaemia one of footballs top guys! My thoughts are with you an your family!! #GetWellSoon

— Adam Le Fondre (@A1F1E9) July 6, 2017
V sad news that #wwfc favourite Carl Ikeme has leukaemia. Knowing the strength of the man, he WILL beat it.

— Rob Dorsett (@RobDorsettSky) July 6, 2017
We may not be perfect on the pitch, but got a feeling @Wolves will be first class helping Ikeme get through this unexpected battle #wwfc

— Russ Cockburn (@Dwarfio) July 6, 2017
Our thoughts are with @NGSuperEagles GK, @Carl_Ikeme who has been dianosed with leukaemia. We will pray and rally round him at this time. pic.twitter.com/IRtxydJWXb

— The NFF (@thenff) July 6, 2017
Our thoughts are with former #QPR loanee Carl Ikeme https://t.co/uFRebjxYLi

— QPR FC (@QPRFC) July 6, 2017
The Nigerian football fraternity and indeed the world, pray for @Carl_Ikeme as he faces this tough but not impossible journey.

We believe.

— Amaju Melvin Pinnick (@PinnickAmaju) July 6, 2017
So sad to hear that @Carl_Ikeme has been diagnosed with leukemia,, best wishes big man, stay strong

— Ben Foster (@BenFoster) July 6, 2017
We are all praying for you @Carl_Ikeme.. Stay strong brother..

— (@Darzel_) July 6, 2017
prayers and thoughts to @Carl_Ikeme ....the best save now is to save the battle of your life, God will help you bro

— itsDozie! (@ejiodoz) July 6, 2017
Get well soon @Carl_Ikeme hopefully see you soon  pic.twitter.com/3nQF8PuuYX

— WWFC JOEL (@JoelHoll_) July 6, 2017
Best of luck with the recovery Kemes @Carl_Ikeme

— Andrew Nicholson (@nicholson4546) July 6, 2017