CAF Champions League
South Africa handed four spots in next year's Caf Champions League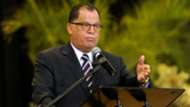 Premier Soccer League is guaranteed four spots in next year's Caf Champions League, Caf executive member and South African Football Association (Safa) president Dr Danny Jordaan confirmed in a press conference on Wednesday. 
Previously, SA could only enter two teams, but following the Caf African Football Symposium which was held in Morocco last week, the PSL will now have two more representatives in the continent's biggest club competition. 
This means PSL champions Bidvest Wits, Mamelodi Sundowns, Cape Town City as well as Kaizer Chiefs will all get the chance to be in the competition next season. 
Jordaan also hinted that the Caf Champions League prize money could increase after the changes. 
He said Safa will meet with the PSL to discuss how the changes will affect teams that qualify for the Caf Confederation Cup.  
According to Jordaan, the football calendar for the inter-club tournament will commence from August to May.  
"If you look at what is happening in the Premier League in England' the first thing those clubs try to do is win the league title and if they can't do it' then the next motivation is to try to get into the top four to have a guarantee of going into the Uefa Champions League," Jordaan told the media on Wednesday.
"As you can see for both Egypt and South Africa they (Caf) have allocated four places in the Champions League and that is on the basis that these teams are strong' thriving and truly professional teams," Jordaan continued.
"Some of our teams (in SA) can compete with the best clubs anywhere in the world, but it is not so for every country in the world. This is something we have to greatly support and give more attention to' which is part of the reason why we come here (to SA) in September to address this matter," he continued. 
"Even professional football in this country has come a long way and it is now that it has taken a step up. It is not so on the rest of the continent," he explained. 
"This is good for the game. African has simply synchronized its calendar with the rest of the world and this will benefit Africa a great deal. We are likely to witness more competitive tournaments with more viewership and definitely more revenue," added Jordaan.
South Africa is not the only country that benefited from the Caf Symposium. Egypt was also given four Caf Champions League spots in next year's edition.