Dominic Solanke
'Solanke has everything you need' - Klopp backs striker to shine for England and Liverpool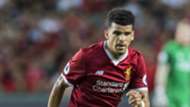 Jurgen Klopp has backed Dominic Solanke to develop into a star for England and Liverpool after the striker made his international debut this week.
Solanke was given his first Three Lions cap when he came off the bench to play the final 15 minutes in Tuesday's 0-0 draw with Brazil, even though he has started just one of his 10 Liverpool appearances since joining from Chelsea in the summer.
Klopp had no arguments over Solanke turning out for the senior England side and believes he is on his way to a good career for club and country.
"It was no problem. Dom is a fantastic guy," Klopp told reporters.
"It was 100 per cent right. It was a situation where a few players were missing but he will be a future player for England, I am 100% convinced of that.
"He has got everything you will need. Okay, in this moment it's really early. He has had a number of games for us but not always many minutes.
"You saw in those 15 minutes [against Brazil] that he got involved immediately. He could have scored.
"I am happy for him. Next time if he is involved it will be no problem. Boys like him, Joe [Gomez], [Tammy] Abraham, [Ruben] Loftus-Cheek, they are the future for England. It is cool. Dom has quality and that's good."
Just as much as the striker's ability, the Reds boss is in awe of his personality and believes his intelligence will set him up to develop well.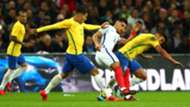 "Apart from his football skills, his character is absolutely outstanding," he added.
"He is completely calm with the situation. He has played one game from the beginning, okay we lost [against Leicester in the League Cup] but he did really well.
"He is really involved, an important member of the squad. That's what he wanted. He wants to be closer. All the rest he has to do by himself. Sometimes you need a little bit of luck to be playing and scoring.
"It hasn't happened too often but he's this close and I am really happy to have him here. He is doing so well and he will not be disappointed if he doesn't start at the weekend.
"He doesn't feel like 'roll out the red carpet'. He is a smart lad, very football smart and that makes him easy to work with."