Australia
Current Socceroos doing more than the golden generation, says Ljubo Milicevic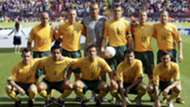 With Australia's World Cup campaign just days away, former Socceroo Ljubo Milicevic believes this side has already achieved more than the 'golden generation'.
The Socceroos squad from the 2006 World Cup that reached the knockout stages has long been seen as Australia's best with the likes of Harry Kewell and Mark Viduka setting a high bar for teams since to reach. 
But having claimed the 2015 Asian Cup and securing a fourth straight World Cup appearance, Milicevic believes this current squad have already achieved more.
"Everyone talks about the golden generation and don't get me wrong, the clubs they played for, for sure outstanding," Milicevic told Goal.
"But as a collective this current generation has done much more.
"We only beat Japan at the World Cup and that was only after we started to bomb long balls. We couldn't create an opportunity against Italy when we had an extra man for a big percentage of that game."
A big reason behind Milicevic's praise for this current Socceroos team resides in departed coach Ange Postecoglou.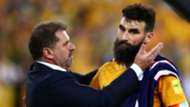 Having steered Australia to silverware on home soil and introduced a bold playing style, Milicevic believes Postecoglou is Australia's best ever coach by some margin. 
"He was the best coach we ever had, by far," he said.
"His success doesn't lie, his results don't lie and the football he got those boys playing is there for everyone to see." 
Check out Ljubo's full second interview with Goal below and stay tuned for more insights from him throughout the World Cup.