World Cup
Socceroos won't just make up the numbers at World Cup, says Aziz Behich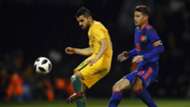 Drawn in arguably the toughest group at the 2018 World Cup alongside Denmark, France and Peru, the Socceroos will have their work cut out come June.
While the least favoured to progress as the lowest ranked nation of the four teams, Australian leftback Aziz Behich insists they won't be just making up the numbers in Russia.
After a 4-1 loss to Norway and 0-0 draw with Colombia in March, the Socceroos dropped to 40th in the latest FIFA rankings as they slipped further away from their highly rated World Cup opponents.
Currently playing club football for Turkish side Bursaspor, Behich is no stranger to taking on giants sides such as Galatasaray and is confident the green and gold can get some positive results in Russia.
"When you come to the World Cup you want to test yourself against the best and this group is an ideal way for Australia to test ourselves against some of the favourites of the tournament," Behich told Fox Sports' Just For Kicks. 
"We're not going there to just make up the numbers, we want to go there to make an impact and get as far as we can.
"We're going there to make sure we proceed through the group and make a good impact.
"It's something you dream about as a kid to play at the highest level possible and the biggest stage for any footballer is the World Cup."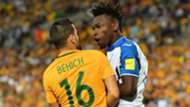 With new coach Bert van Marwijk at the helm, Behich praised the departed Ange Postecoglou for all he did during his tenure.
The 27-year-old became a regular starter under Postecoglou as the Socceroos sealed a spot in Russia.
"He did a lot for football in Australia, we won the Asian Cup with him which was a massive thing for our country and football in Australia," Behich said.
"With Ange I think a lot of players can thank him for the football that we played and the steps we took to qualify for another World Cup.
"He will be missed but in football everything chops and changes."
Though starting his career higher up the pitch, Behich has cemented himself as a left back with a knack for getting forward effectively.
With five goals this season for Bursaspor, the Green Gully product is impressing in Turkey and is savouring playing in such a competitive environment.
"It's a tough league and every year it's just getting stronger and stronger," he said.
"Our supporter base in unbelievable, we get at least 20,000 to every game and home or away they always support us.
"Very strong league but a very enjoyable league to play in."