Fandi Ahmad
Singapore's problems persist even as they overcome Mongolia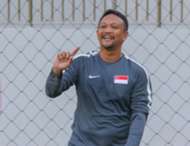 Singapore beat Mongolia 2-0 last night and while the result is a small confidence booster for Fandi Ahmad and his charges, problems still remain.
On the pitch, the Lions were at times devoid of creativity against a resolute Mongolian defence. Singapore's opponents who's FIFA ranking is 186 were no slouches themselves, carving out a few golden opportunities for themselves.
But Singapore should have done better and Fandi knows it. It took till the 71st minute for Captain Hariss Harun to break the deadlock before Thai based midfielder Gabriel Quak added another to seal the win for Singapore.
Playing out from the back
Although it can be argued it is commendable that Fandi wants his team to play out from the back as most modern sides do these days, it can be said that Singapore is not ready for this.
More than often not in the game, Mongolia nearly pounced on errors made from Fandi's backline in their bid to attempt a tiki-taka style of play. At the post-match press conference, Mongolian head coach Michael Weiss warned Singapore that should they continue this style, it may be their undoing especially against a side with stronger firepower like Thailand or Indonesia.
What's worst is even the experienced likes of Safuwan Baharudin were forced into uncanny errors in trying to build up play from the back. Passes went astray in key areas of the pitch and Singapore was lucky to emerge unscathed. Fandi must rectify this aspect if his team is to have a deep run in the AFF Suzuki Cup.
Still experimenting
At this stage most coaches would have already finalised their 23-man squad for the AFF Suzuki Cup but it seems that Fandi is still in the experimentation stage with his team.
It was reported earlier in the mainstream press that he has finalised about 17 for his 23-man squad leaving six spots still up for grabs. But watching the Lions you do get a sense that even Fandi may not know who his best 11 is or what formation is suited for his side.
Yes, it is a good thing to inject youth into your team but not when a crucial tournament is less than one month away. Huzaifah Aziz, Jacob Mahler and Iqbal Hussain are all great talents in their own right but one wonders whether they can make a contribution to the national side as they still seem raw in the series of friendlies that they have featured in.
Then comes the number 10 role. Fandi is also still toying with ideas on who to field in that role. Against Mongolia last night he did try to experiment with Faris Ramli but Faris has been underwhelming for the national team. Some would say to give a chance to Adam Swandi who had an excellent season with Albirex Niigata and can excel as a playmaker.
There are so many question marks over this Singapore side and their credentials. Fandi has a monumental task ahead of him but the problem is there is not enough time.