Sierra Leone
Sierra Leone captain Bangura rues cancellation of Ghana double-header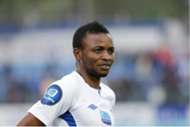 Sierra Leone skipper Umaru Bangura is unhappy by the current state of his nation's football following the late cancellation of last month's 2019 Africa Cup of Nations qualifying double-header against Ghana. 
Six days to the first of the back-to-back games, the Sierra Leanean Football Association was slapped with a Fifa ban from football, leaving the games hanging in the balance. 
Both nations, however, continued preparations for the matches with the hope of having a quick lifting of the suspension. Less than 48 hours to the first leg, continental football's governing body Caf announced a complete cancellation of the fixtures after the Sierra Leonean government failed to meet conditions under which the suspension would be lifted. 
"The suspension is affecting us the footballers as we're the ones suffering the most," the FC Zurich man Bangura told the BBC.
"This isn't good for us. We feel disappointed because we know it has a negative effect on our football careers.
"Some foreign players including me were already in camp in Freetown when we heard the sad news about the suspension. We didn't feel good.
"Other overseas players were at different airports to fly to Freetown from their respective countries where they play their club football."
It is still unclear whether the cancelled games will be rescheduled. Again, it is not certain if Sierra Leone's ban will be lifted in time for November's Afcon qualifier against Kenya.
"It's always a special feeling when you play for your national team. We're hoping that the suspension will be lifted," said Bangura.
"If the suspension isn't lifted in time for the Kenya game, then it means we no longer have any hope of qualifying for the finals in Cameroon.
"It'll end the hopes of the ageing players in the team to ever play in the Nations Cup finals. For these players it's either now or never.
"We had resolved that this time we should qualify for the Nations Cup."