Sergio Ramos
Sergio Ramos hits out at England boos: No one remembers the death threats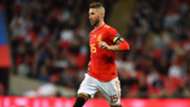 Spain centre-back Sergio Ramos has shrugged off jeers from England fans and pointed out the death threats he received in the aftermath of the Champions League final against Liverpool.
Early in that game, which Real Madrid won 3-1, he clashed with Mohammed Salah in an incident that saw the Egypt international sustain a shoulder injury that forced him off prematurely and saw his participation in the World Cup limited.
The experienced centre-back was vilified after the incident and continues to be a divisive figure in England, though he continues to protest that his "conscience is clear" over the incident.
On Saturday, the Real Madrid defender was booed as Spain beat the Three Lions 2-1 at Wembley but he has pointed out that he was victim to unpleasant behaviour from fans following Los Blancos' third successive Champions League success.
"I would've liked another reception," he admitted in the aftermath of the Nations League clash. "Everyone remembers the final but nobody remembers the death threats that my family and my children received."
Meanwhile, the Spaniard was pleased that Luis Enrique's era got off to a successful start.
"We started a new era with a coach who has a lot of experience and what better way to win at Wembley," the captain said. 
On Tuesday, Spain will tackle World Cup finalists, and Ramos is looking forward to a reunion with one particular club-mate.
"There are few players that I am as proud of as Luka Modric," he said. "He merited being named FIFA's The Best – I was as happy for him as if they had given it to me."