Africa Cup of Nations Qualification
Sebastien Migne taps into the experience of Kenyan coaches as he gets down to work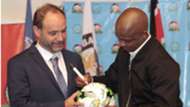 Harambee Stars head coach Sebastien Migne has got down to work barely a week after he was unveiled as the national team boss.
Migne, who replaced Paul Put as the Harambee Stars' manager, met a section of both Kenyan Premier League and National Super League coaches in a bid to interact and get to know more about Kenyan football.
"I wanted to have a chance with them (coaches) to create a connection between them and me because they know the local players better than me.
"I did not want to waste time, It was my first mission after being appointed," Migne said after meeting the coaches at the Fifa Goal Project on Tuesday.
Migne will be assisted by Nicolas Bouriquet with goalkeeper trainer Guilaune Breul forming part of his expanded backroom staff.
The Frenchman is sourcing for every available piece of information as he seeks to assemble a team that will take on Ghana in the Africa Cup of Nations qualifiers in September.