African Nations Championship
Sebastien Migne exit: Harambee Stars to have new coach in 48 hours – Mwendwa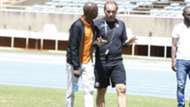 Kenya's Harambee Stars will have a new coach in the next 48 hours, Goal can reveal.
Football Kenya Federation (FKF) president Nick Mwendwa has confirmed to Goal they will unveil a new coach in the next 48 hours to replace Sebastien Migne, who parted ways with the federation on mutual consent on Monday.
"We started the search of a new coach immediately after coach Migne left," Mwendwa told Goal.
"We are going to continue with the search today [Tuesday] and I am very sure Kenya will have a new coach in the next 48 hours. However, if it takes long, then we will have a new coach by Friday."
Asked to state whether they will go for a foreign coach or a local one, Mwendwa said: "We have a huge list of coaches which we are looking at. They are both local and foreign coaches.
"I don't think it is okay for me to reveal the identity of those [coaches] we are talking to but be assured the country will have a new coach as soon as we agree with one."
Mwendwa admitted the urgency of employing a new coach is necessitated by the fact Kenya are preparing to play in the 2021 Africa Cup of Nations (Afcon) qualifiers.
"We have the Afcon qualifiers coming up hence the decision to have a new coach in place. We want to do well in the qualifiers again and also make it to the final for the second time in a row," Mwendwa continued.
Meanwhile, former Harambee Stars coach Adel Amrouche has already shown keen interest to handle the side.
Speaking to Goal on Tuesday, Amrouche admitted he will not turn down the offer if the FKF approaches him for a second stint.
"I love Kenya as a country, Kenya is in my blood and why should I turn a chance to come back?" Amrouche told Goal.
"I know there is a vacancy in Kenya but no one has approached me yet, but if they come for my services I will gladly take the offer. I would love to work in Kenya again, it is a beautiful country with very nice people."
Migne, who replaced Paul Put, leaves Kenya after guiding the team to the Afcon finals for the first time in 15 years.