Africa Cup of Nations Qualification
Sebastien Migne blasts Gor Mahia players after snubbing Kenya v Ghana match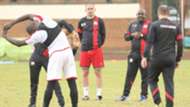 Sebastien Migne has hit out at two Gor Mahia players after they snubbed a call to face Ghana on Saturday.
The French coach particularly picked out on George 'Blackberry' Odhiambo and keeper Boniface Oluoch for refusing to report to camp and suggested that action should be taken against them by the football federation.
"I can speak of 'Blackberry' (George Odhiambo) for example, in France two days ago, Jean Kevin (Augustin), turns out for Leipzig and rejected the U-21 call up, they asked Fifa to give him suspension, Hugo Lloris, World Cup winner with France, is playing for Tottenham but was in Paris to check with the national team doctor if his injury was true or not."
On the Ghana match that saw Kenya win by a solitary goal to revive their hopes, Migne said, "I am very proud of my players, I like so much the spirit they put up despite what we went through in the four days we have been in camp. It was not easy to build such a strong spirit and they were very incredible."
Migne also took issues with the decision to deny Kenya access to train at Kasarani at the expense of Cameroon, who were en-route to Comoros.
"It was a missing of respect for this team because when I saw Cameroon have a training at this field (Kasarani) and not us, who were struggling at Monetary Studies, it was not good to work like that and especially now that we want to achieve a lot at this level.
"If you think today we beat Ghana and we are at the same level..., I am very sorry, we are very far, very far away from the top level. We are very far away. I am not a liar and I am not happy at all."
Kenya will next face Malawi at home in a friendly match on Tuesday afternoon.