Transfers
Schick opens transfer door to future Man Utd, Madrid or Barcelona move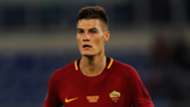 Patrik Schick is already planning for life after Roma, with the talented forward hoping to join Manchester United, Barcelona or Real Madrid in the future.
The 21-year-old Czech Republic international was the subject of intense transfer speculation over the summer, as Serie A champions Juventus closed in on his signature.
That interest was eventually shelved, clearing the path for an initial loan switch from Sampdoria to Roma, but Schick has made no secret of his desire to grace the very top of the game.
He admits that he plans to go "much higher", with it his ambition to earn a move to Old Trafford, Camp Nou or Santiago Bernabeu.
Schick told Czech publication Reporter Magazin: "Money? I take it as motivation, and I hope that in a few years I can move to an even bigger club where logically I'll be paid even more - that motivation has always helped me a lot.
"It's not really possible to move much higher [than Roma] but there are a few clubs… let's say Real Madrid, Barcelona or Manchester United."
For now, Schick is focused on enhancing his reputation at Roma.
He admits that he had been hoping to head for Turin, but is eager to put a frustrating transfer saga to one side after seeing Juve scared off by heart inflammation picked up during a medical.
Schick added on an eventful summer: "The season ended and I could choose, the offers I liked most came from Rome, Milan and Turin. Finally I decided on Juventus, not least because I was called by [Vice-President] Pavel Nedved and it all sounded so exciting.
"I was looking forward to it, and frankly in June I felt like a Juventus player, but I wasn't…
"I knew it was nothing serious, just some inflammation that would pass soon. I was fine, and I knew there was enough time to rest and everything would be normal, but Juventus delayed my transfer.
"When I came back from my holiday, Mr [Pavel] Paska [Schick's agent] said we had to go to Turin for another medical.
"I told him I wasn't going anywhere, that it was already getting on my nerves and I'm not flying to Turin, it would be useless.
"It didn't matter to me anymore, I was a little bit angry. The deliberations were unnecessary, and in the middle of July my €25 million release clause ceased to apply.
"So as far as I was concerned the President of Sampdoria [Massimo Ferrero] could name his price and put my value as high as possible. That's what he did, he eventually got it up to €40m, a billion koruna.
"When I signed I felt great relief that I could finally concentrate only on my football."