Maurizio Sarri
Sarri: I don't miss Napoli chief De Laurentiis but maybe he misses me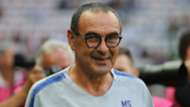 Maurizio Sarri has hit back at Aurelio De Laurentiis  after his former club president criticised the ex-Napoli coach's trophy record.
Chelsea's ended up waging a legal and bureaucratic approach to secure Sarri as their new manager over the summer but progress with Napoli was painstakingly difficult.
In fact, Antonio Conte took several pre-season sessions despite having fallen out with the board and several of his first team players.
The difficult negotiations led to Sarri joining a week after many senior players had returned to pre-season. It also left the relationship between Sarri and De Laurentiis in tatters, leading to the latest public spat between the two former colleagues.
Sarri claims that De Laurentiis must miss him at Napoli, but revealed that 'at the moment' he does not miss being head coach of the Serie A side.
"I don't know [why] he is talking about me? [Maybe] because he is missing me. He is used to doing it." Sarri told reporters.
The new Chelsea boss went onto explain his lack of trophies at Napoli, as he aims to put it right at his new club.
"We didn't win in Naples, but we had the record number of points for the club, and then the second and third best," Sarri said. "We qualified three times for the Champions League, and it was unusual for Napoli.
"So I think we did very well. Nobody won in Italy except Juventus in the last seven years."
The 59 year old may not be popular with his former club's president, but he remains liked by the people in Naples and will be disappointed that De Laurentiis has drawn him into defending his record.
His lack of major honours remains a question mark on his club record, regardless of his rapid rise as a coach in the game. Sarri went onto be asked about his smoking habits, after hinting that he wanted to give up after the 3-2 win against Arsenal.
"I am here to talk about football, not about smoking," He continued. "I think, for me, it's better if I stop here for my health, but I don't know if I am able to do it."