Premier League
Samudeen admits player exodus will affect Hearts of Oak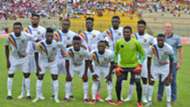 Hearts of Oak midfielder Samudeen Ibrahim has admitted that he is worried following the departure of captain Thomas Abbey and three other key players.
The quartet, which also includes Kwame Kizito, Leonard Tawiah and Vincent Atinga, parted ways with the club after refusing to extend their contracts last month and are expected to play in Europe in January.
"It's very sad news for me because it's not easy to be with such players and later lose them," Samudeen was quoted as saying by Ghanaweb.
"It will definitely affect Hearts a lot, so I was very sad when I heard the news that they would be here no more.
"But I don't have control over anyone, so I think that is football. You cannot stay in one club forever. They also have their own reasons for leaving."
He added, "It is definitely not easy to recruit a player and help him to become an instant hit but lose him and had to replace him. I don't know how fast we can find their replacements but we will do our best in the upcoming season to improve on last season's performance," he added.
Hearts finished third on the log, extending their run without a major trophy since 2009.