Mohamed Salah
Salah really happy at Liverpool and allowing them to believe rather than hope - Kuyt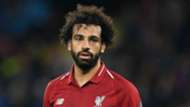 Mohamed Salah "feels happy" at Liverpool and is planning a long-term stay as the Reds chase down Premier League title glory, says Dirk Kuyt.
The Egyptian forward has been a revelation at Anfield since returning to English football in the summer of 2017.
He netted 44 times during a stunning debut campaign on Merseyside which earned him a Golden Boot award, PFA Player of the Year prize and nominations for the FIFA Best and Ballon d'Or.
The 26-year-old has been back among the goals this season, reaching 50 for Liverpool in record-breaking time, and committed to a new five-year contract over the summer.
Former Reds star Kuyt believes Salah will be sticking around for some time as he is revelling in his current surroundings, telling the club's official website: "It's amazing. I talked to him on Wednesday after the game [against Red Star] – he is such a nice guy.
"Everybody can see when they are watching in the stadium or on television that he is a great player; not everyone can see he is a very nice person who is very happy at Anfield at the moment.
"That's the most important thing: that he feels respected and that he feels happy at Liverpool Football Club. That's why he is achieving those kinds of things.
"Everyone knows he is a fantastic player. The fact he is here, that he is respected and that he is happy counts even more.
"Hopefully he will be happy for a very long time here. Wednesday was the first time I met him in person; I respected him already as a player but as a human even more now."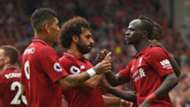 Kuyt added when pressed on why Salah has impressed at Liverpool having previously flopped at Chelsea: "The partnership between [Sadio] Mane, [Roberto] Firmino and Mo makes the difference.
"Mo is very happy with Firmino, he is the type of striker who doesn't live by goals – he lives by playing football, winning games and winning together. That has made it a pleasure for Mo to play with these kinds of players, who are not selfish and who know how to bring Salah into positions to score.
"It's all because of that connection, especially with the players up front who know what to do and know in which kinds of positions they need to bring Salah. He made a great goal and also a good penalty."
Salah has helped Liverpool to make an unbeaten start to their 2018-19 Premier League campaign and Kuyt, who fall agonisingly short in his bid for an English top-flight crown before returning to Feyenoord to conquer the Eredivise, says the African star is allowing the Reds to dream.
He said: "When I arrived at Liverpool there was a hope to win the league. Now that hope is changing and people start to believe Liverpool can win the league.
"That's what football is all about: that you believe in the success you can have with your team. The supporters are starting to believe it's possible to win the league again. It's a long way but that's the first step. You have to believe you can do it.
"With Feyenoord we had the same situation, a little bit shorter but for 18 years we didn't win the league title. From the first day we started the competition we believed in winning the league and that's what I felt on Wednesday – that people are not hoping for success but believing in success for Liverpool. That's a massive step forward."