Africa Cup of Nations Qualification
Safa and Mashaba saga finally put to bed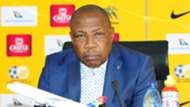 The South African Football Association (Safa) and former Bafana Bafana coach Shakes Mashaba have reached an agreement to settle the CCMA case out of court. 
Mashaba took the country's mother body to the CCMA following his dismissal in December 2016. 
He was found guilty of gross misconduct, insubordination and violating Safa's communications policy by the disciplinary committee for venting his anger at Safa officials and the public after Bafana's 2-1 win over Senegal in November.  
After a long-running arbitration hearing which lasted for over two months, the two parties agreed to settle out of court, with Safa believed to have paid Mashaba a fee believed to be around the region of R2.5 million.  
Mashaba's lawyer Claudio Bollo said the 66-year-old was pleased with the settlement. 
Bollo confirmed that Mashaba will concentrate on contributing to the South African football now that the saga has been put to bed.  
"Shakes is very happy and obviously with a new coach in place' settling the matter was in everybody's interests rather than continue with the fight'" Bollo told TMG Digital.
"Football is in his blood and hopefully he is going to continue making a contribution in South African football in whatever way people would like him to do," Bollo concluded. 
Mashaba has since been replaced by Stuart Baxter, who will lead the senior national team in an Afcon 2019 qualifier against Nigeria next week.