Real Madrid
Ronaldo has Real Madrid-bound Vinicius Junior dreaming of partnership with all-time great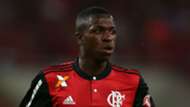 Cristiano Ronaldo's remarkable exploits at Real Madrid have Vinicius Junior daring to dream of what it will be like to partner "one of the greatest players of all time".
An exciting teenage talent who has already drawn comparisons to fellow Brazilian Neymar has a deal in place to take him to Santiago Bernabeu.
Real have invested €45 million worth of faith in the 17-year-old's potential, with an early move made in order to keep him out of the clutches of a rival.
For now, Vinicius is furthering his footballing education with Flamengo in his homeland, but he is keeping a close eye on goings on in Europe and cannot wait to form part of a star-studded squad.
He told Segue o Baile after witnessing a remarkable overhead kick from Blancos talisman Ronaldo during a Champions League quarter-final clash: "When I saw the goal Cristiano scored against Juventus I thought that one day I am going to play with one of the greatest players of all time. I imagined myself celebrating there with him."
It is yet to be determined when Vinicius will be heading to Spain, with no date set for his arrival.
A summer switch may be made if all parties are in agreement, or the highly-rated youngster could be allowed to remain in South America until the end of the calendar year.
He said when pressed on when his future will be resolved: "I don't know.
"They will tell me when and I only give my approval, but I'll not participate [in the decision on dates]."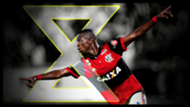 For now, the man who placed third in the Goal 2018 NxGn is focused on the present.
He has, however, discussed his imminent move to Madrid with fellow countrymen already in the Spanish capital, with Marcelo and Casemiro having helped to talk him into a deal.
Vinicius added: "They helped me a lot with the decision. They told me that I had to be in the best team. I'm leaving the best team in Brazil to join the biggest in the world."
One of the hottest prospects in world football has added six goals to his Flamengo tally this season, having found the target on four occasions during a breakthrough campaign in 2017.