Transfers
REVEALED: Why top Ivorian striker Ephraim Guikan parted ways with Gor Mahia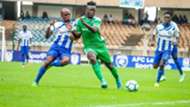 Gor Mahia coach Dylan Kerr has revealed that the club released Ivorian striker Ephraim Guikan because he 'failed to click.'
The striker was signed by the Kenyan Champions from Mauritius' AS Port Louis 2000, but failed to command a starting place in the Dylan Kerr squad and was used sparingly, mostly as a substitute.
And on Thursday, Gor Mahia Deputy Secretary Ronald Ngala revealed that the player was on his way out of the club. "Guikan is leaving, he requested to be released for personal reasons and we had no alternative but to grant him his wish. We have rushed to sign Erisda Sekisambu as his replacement."
But in an exclusive interview with Goal.com, the Briton coach now says the player failed to click and was not good enough for the team. "I don't think I had any issues with Guikan, but was he good enough?
"In football players click or don't click and that was the case with Guikan. I just read in your website that he has left and that shows he didn't want to stay and fight for his place in the team. I select players on form and training and I have no favourite nor special players in my squad.
"I know he (Guikan) might blame me of course but when you come to a big club, you have to be a big player especially if you are a foreigner because of the money you ask for before signing.
"For Guikan it didn't work and this do happen. Some players can adapt quickly to the system or don't. He is a good finisher no doubt about that but a striker has to have a bigger package, it is the first line of defence for any striker and the other one is to score goals.
"Jacques (Tuyisenge) and Meddie (Kagere) were the work cog of our machine in the striking area and when you sign someone, he has to be the other cog and add more to that machine like instead, of five gears, it has six. Guikan did not achieve that and I wish him all the best."
Gor Mahia will start their title defence with a clash against Bandari.