Ligue 1
Real life Super Mario Kart, Evra's happy place and Mbappe still smiling - Ligue 1 goes social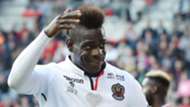 It's been an eventful international break for Paris Saint-Germain's Brazilian players.
On the whole, there was joy as their national side finished off a fine World Cup qualifying campaign comfortably top of the South American pool, but Thiago Silva picked up an injury that prevented him from playing in Saturday's 2-1 win over Dijon.
One man who has enjoyed his time with his country, however, is Neymar. He may not have scored in a draw against Bolivia or the 3-0 win over Chile, but he has been impressed with the manner in which the team is shaping up before Russia and took to Instagram to explain just how much it means to be part of the squad.
"So happy to have achieved our goal and much happier to be part of this squad. Congratulations to all who played their part in this," he said.
This was a sentiment echoed by club-mate Dani Alves, who has been part of the national squad for well over a decade and is still going strong at 34 years old. 
"Life teaches us that persistence in everything we do has its reward. Congratulations guys, and thank you to all who have never stopped believing in us... It will always be an honour and we will always strive to do our best to represent our country," he said.
He remained equally upbeat after PSG struggled past Dijon at the weekend.
With numerous injury problems, Unai Emery had to shuffle his pack, leading to Alves playing in a midfield role. His side struggled but were let out of jail by Thomas Meunier, whose rich run for club and country continued as he scored twice.
However, Dani Alves was eager to block out critics of the display and instead focus on the future. "The silence of intelligence lies in not listening to the noise of mediocrity," he posted in typically philosophical style.
Kylian Mbappe was happy to make light of the performance, even after a frustrating afternoon personally, with goalkeeper Baptiste Reynet persistently foiling him.
"Hey PSG, let's pretend you didn't see the chances I missed," he joked on social media.
‬‬Neymar was another man to have a frustrating afternoon at Stade Gaston Gerrard, albeit after a hectic schedule of travelling.
During this, he took time to wish those in his homeland Happy Children's Day, posting a picture of himself as a youth to mark the event.
A post shared by Nj neymarjr (@neymarjr) on Oct 12, 2017 at 7:05am PDT
Not all of Ligue 1's stars were slugging away on international duty.
Despite a promising start to the season, Mario Balotelli continues to be frozen out by Italy, but at least that allowed him some time out to try his hand at some real life Super Mario Kart – with some hilarious results. He's hinted that there's more to come – we can only look forward to it.
A post shared by Mario Balotelli@mb459) on Oct 10, 2017 at 11:15am PDT
Patrice Evra, meanwhile, has probably been doing something a little more sedate. He revealed on Instagram his love of meditation and the effects that it has had on his life.
"Since 2014 I started meditation. It's really helpful for yourself to see the world in different ways... keep the positive vibes like I always said I respect every religion, but first try to be the best human being you can, from there you will choose the religion that suits you the most - or maybe not any of them..."
The veteran defender offered his well wishes to England and Manchester United legend Bobby Charlton, who enjoyed his 80th birthday last week.
"When a legend call you LEGEND and telling me you are one of my favorite one what else..? I love this game," he wrote.
Both Balotelli and Evra had frustrating Sundays, though.
The striker's Nice side lost 2-0 to Montpellier, while Marseille had to settle for a 3-3 draw at Nice. With the Europa League to come on Thursday, both will seek for rapid redemption.