Transfers
'Rashford will be considering Real Madrid move' - Man Utd exit possible, says Berbatov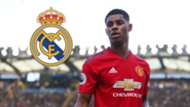 Dimitar Berbatov believes Real Madrid rumours will have turned Marcus Rashford's head and have the Manchester United forward thinking "f*ck it, why not?".
At 21 years of age, the England international finds himself at a career crossroads.
He is an Old Trafford academy graduate playing for his home-town club, but regular starts are proving hard to come by and there are suggestions that his development is being stunted.
Transfer talk has built around him as a result, with La Liga giants Real one of many suitors reported to be closely monitoring Rashford's situation.
Former United striker Berbatov believes a move could be made, telling Betfair: "I wasn't totally surprised to see rumours about Marcus Rashford moving away from Old Trafford.
"I think Jose Mourinho should be playing him more; he's only going to get better with experience and we can see how well he is playing for the national team.
"Rashford hasn't necessarily hit top form for Man United so far this season, but he is a good player with a big future ahead of him.
"If he is not happy with the lack of playing time, I can understand why he might start thinking about his options.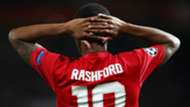 "I would be very sad to see him leave and Manchester United need to do all they can to keep him, but you can see why players head get turned when names like Real Madrid are mentioned.
"Madrid isn't a place where he is necessarily going to get more playing time, of course, but when you are bit confused, you sometimes forget about those details and can get seduced by the big name. You think 'f**k it, I'm not getting a chance here, so why not?'
"But, as I said, I do not want this move to happen.
"It's important that academy players are given a chance and we don't want to see another Pogba situation where United have to pay a huge fee for someone they had on their books in the first place."
Rashford has started just five Premier League games this season, with Jose Mourinho often favouring other attacking options.
United do, however, need inspiration from somewhere, as they sit eighth in the table, and may hand more minutes to a proven performer as they endeavour to find a winning formula.